Best new icon packs for Android (April 2015) #2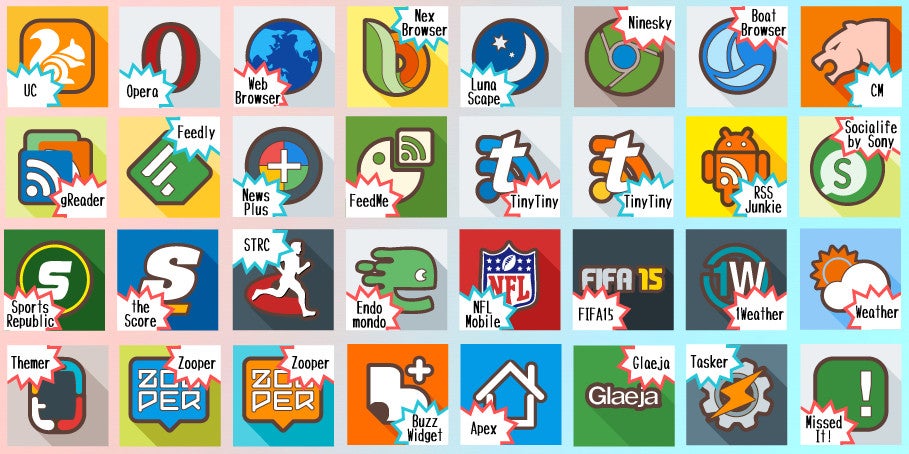 Looking for a quick way to change the looks of your Android device? Apart from changing the launcher, you can also bring a whole new look to your UI by simply changing the default icons with some more compelling ones. There are a lot of quite awesome and intriguing icon packs for Android - normally, a handful of noteworthy ones appear on Google Play each and every day. However, keeping tabs on all of these is quite a cumbersome task, even for those who are into such things.
This is why we regularly show you the icon packs that have recently made their way to the Play Store and deserve your attention. Have in mind that you'd normally need a third-party launcher in order to change your stock icons with some of the beautiful suites right. Note that as a rule of thumb these are usually compatible with all third-party launchers that support icon packs.
Mos
With more than 980 icons inside, Mos will hardly disappoint Android users looking for a compelling icon pack. It also supports icon masking and allows you to revert to the default app icon if what Mos has in tow doesn't suit your needs.
Rox UI
There are more than 900 icons inside this icon pack, but fret not, as icon masking is also part of the mix - if the icon for a given app has not been explicitly created by the developer, the app will theme it itself.


Miu
Do you like the looks of
MIUI 6
? If that's the case with you, Miu has got you covered. This icon pack is almost perfectly imitating the looks of Xiaomi's UI and its latest rendition in particular.
Balloon
Balloon contains slightly more than 450 icons, all of which make use of "Material Design" colors. You'll need a third party launcher to make use of this icon pack; the developer also promises weekly updates.
Suite
Suite boasts more than 1,000 icons inside, a vast selection of high-res cloud-based wallpapers, dynamic calendar icons, and a handful of other features. Works with a majority of launchers, namely the likes of Nova, Apex, Action, Atom, GO, Aviate, Holo, Smart Launcher, etc.
Dominoes
Dominoes comes with more than 2,100 icons and a handful of wallpapers optimized for Quad HD devices. Due to the large amount of icons included in it, it comes with an icon browser with a search function.
Rive

With more than 1,000 icons inside, a dozen or so HD wallpapers, dynamic calendar support, as well as icon masking, Rive is certainly an icon pack you shouldn't miss.