Best new icon packs for Android (April 2018)
1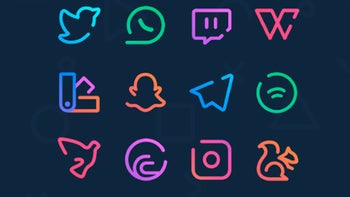 While the vast majority of Android consumers use their devices without customizing these at all, a smaller group of Android enthusiasts can hardly go for more than a week before overhauling the appearance of their homescreens. What can we say, we are guilty of that as well! Thanks to the multitude of icon packs arriving weekly on the Play Store, that's as easy as a pie.
This is why we regularly show you the icon packs that have recently made their way to the Play Store and deserve your attention. Have in mind that you'd normally need a third-party launcher in order to change your stock icons with some of the beautiful suites right. Note that as a rule of thumb these are usually compatible with all third-party launchers that support icon packs, such as Nova, Apex, etc.
Here follow the best new ones that have made it to the Play Store for the month of April 2018.
Zummer
This one comes with 1,350 squareish flat icons that look great and would fit a multitude of setups and themes. Fret not, however - there's icon backing and masking built-in, so all of your apps will look generally the same, which is a requirement these days.


Moonrise
With 1220+ icons and a couple of wallpapers, Moonrise is a new icon pack that should definitely be on your radar. The icon pack supports more than 20 launchers and features dynamic calendar icons, allowing the calendar app's icon to be always up to date.
Bio
Most icons these days roll with the trendy circular, square, or teardrop shape, but some rebel and come along with a bit more unorthodox designs. Bio is a prime example - all of the 1,350+ icons included in this icon pack feature a hexagonal shape. That's a great decision on the developer's part as it instantaneously makes the icon pack grab your attention. With so many icon packs available out there, that's an excellent way to stand out.
Linebit
This super-simplistic neony icon pack boasts slightly over 390 icons, but we wholeheartedly hope the tally grows as soon as possible, because let's be frank - Linebit looks amazing! It's possibly one of the freshest icon packs you could think of.
Sunoi
Forget circles, hexagons, squircles, and squares, portrait icons is where it's at! Yes, Sunoi features this totally unorthodox and underused form shape to do its thing, and we can't lie - we kind of like it! Of course, the fact that the icons themselves are so well made further adds to their noteworthy appeal.