Best new iPhone, iPad and Android apps for June 2012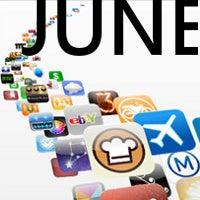 If May was big for apps, this past month of June was huge. And no wonder we had all three industry behemoths - Apple, Microsoft and Google hold their developer events packed with even more innovation and apps in addition to the standard app store flow.
One big trend this month was the closing gap between iOS and Android in terms of pure app count as Google's Play store now boasts with 600,000 total applications, just 50,000 short of Apple's App Store.
But what we want to highlight in this monthly pick is quality over quantity. Android got the most attention in June as not only the weather got hot, but so did apps. Some of the best apps from the iPhone arrived on Google's platform with Flipboard in the avant-garde and that's definitely the most exciting visual news experience you can get now on Android.
The migration of apps in the summer was two-way. While Google's platform was getting more and more apps, iOS finally got to taste some landmark Android titles like Chrome and Google Drive. But we won't spoil it anymore - check out our carefully selected, best apps for the past June 2012.
Best new apps for Android, iOS and Windows Phone