Best new iOS widgets (June 2015)
17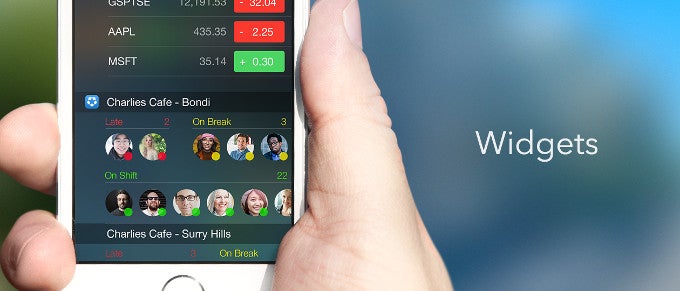 One of the new features that arrived alongside Apple iOS 8 is support for widgets, a feature that has been a fundamental and integral part of Android for a long, long time. Well, some may argue that widgets in iOS and Android greatly differ from one another in terms of integration within the UI. After all, iOS only allows you to put widgets in your notification center, while Android offers an unprecedented level of flexibility and customizability.
While that's mostly true, it doesn't mean that the widgets available for iOS are sub-par to their Android rivals. Well, they are less in numbers, actually, but that's pretty natural given the relative short amount of time for which iOS has supported widgets. Of course, there are many widgets that deserve to stay in your iOS 8-running iPhone or iPad's notification center.
We've been informing you about the new and noteworthy
Android widgets for more than half a year now
, but with iOS and the Apple App Store gaining traction and scoring more and more widgets, we felt natural to give Apple's platform the same amount of attention in this regard.
Today, we'll be treating you to some of the more notable widgets for iOS that arrived in the past month or so.
Stats Widget
Just as it name suggests, Stats Widget is a tool that will show you general and a bit in-depth information for your device right in the Today dropdown menu.
Agenda: Widget+
This widget puts an agenda view of your calendar straight in the Today view of your notification center. It provides you with a little more information about your upcoming appointments and events in comparison with the baked-in stock agenda widget in iOS.
Widget Dial
Thanks to this iOS widget, you can have a handful of pre-defined contacts up in your notification center - calling them is just a swipe down away! You also get a small dialer which allows you to input phone numbers on the fly.
Thenmark
Dig bookmarks? Thenmark is an ellegant widget that puts nice bookmarks in your notification center, allowing you to quickly access your favorite websites whenever you desire.
MuJet
This widget allows you to make even better use of the built-in iOS music player - by putting your favorite tracks in your notification center, you can easily play the music you want whenever you want.
Data Tracker
If want to easily keep tabs on the mobile and Wi-Fi data you've went through at all times, check out Data Tracker for iOS. This widget provides you with an insight of this rather important metric that is just a swipe away.