Best new Samsung themes for the Galaxy Note 5, Galaxy S6, and Galaxy A series
23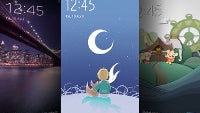 One of the biggest surprises in the latest major build of Samsung's proprietary TouchWiz UI was the introduction of a dedicated, fully-functioning Theme store as a part of the standard package. And we're not talking just accent changes, either — the theming engine goes quite a few steps further to allow for a wider degree of customization, including tweaks to icons and various elements of built-in apps.
Samsung being Samsung, the Theme store has since attracted quite a few designers and hobbyists, so there's no shortage of supply of fresh themes. Unfortunately, not all of the entries were created equal, and while there
are
some truly nice ones, quite a few of them are mediocre at best. This being a matter of taste, however, you might see things differently.
In any case, a whole bunch of new themes were recently added to the store, and we thought we'd round up the best of them for your viewing pleasure.