Best new Android widgets (January 2016) #2
0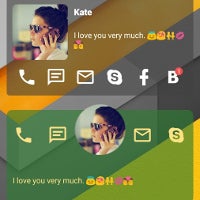 The time has come to show you some of the best widgets that have arrived on the Google Play Store in the past two weeks! As you have probably noticed, we have been running this bi-weekly column for some time now. As a result, we have formed a pretty good understanding on how to separate the wheat from the chaff.
Although not every Android user makes full use of them (as it's entirely optional), the home screen widgets that are natively supported by Google's OS are one of its fundamental functionality features. In general, widgets are "miniature application views that can be embedded in other applications (such as the home screen) and receive periodic updates", and are usually regarded highly by the Android community.
It goes without saying that if you take away Android's widget support, you are essentially stripping it away of one of its defining features. And we don't want to do this, do we? On the contrary, we want to regularly present to you the best and most noteworthy new widgets that get released on the Play Store. As it's rather hard to separate the wheat from the chaff, we do the hard work for you and show you all the new widgets that you should know about once every two weeks.
System Info Widget
In case you want to keep tabs on the current CPU, RAM, and disk usage of your Android device, System Info Widget is here and up for the task. It will show you the current readings of these in a small, unobtrusive window. Unfortunately, customization options are not present, but we won't regard his one as a downside.
Kappuccino Weather widget for KWGT
Got
KWGT
? In case you didn't know, this is one of the best apps that allow you to create your own widgets or customize other user-created ones. It's undoubtedly one of the apps that have a steep learning curve, but the abundance of available skins make it a bit easier. That said, feel free to check out this new skin for KWGT - it displays weather info and is as straightforward as it gets, but hey, it might end up floating your boat nonetheless!
Valentine Weather Widget Theme

Developed by GO Launcher EX's developer, this theme will give your GO Weather app a new lovey-dovey look just in time for Valentine's day, which is just around the corner. Well, we wouldn't say it's the best theme for the app out there, but hey, it does not look half-bad either! If you feel like giving it a spin, you will be delighted to know that you can do so free of charge.






Super LED Flashlight & Widget
Undoubtedly, the Play Store is home to more flashlight widgets than anything else. Actually, he is a link that shows you exactly how many flashlight apps are there for Android (spoiler: they aren't three or four). Well, this new app is yet another addition to their vast ranks, but it's a bit more feature-rich than your average flashlight app. For one, it comes with a strobe functionality built-in, which allows you to determine the frequency of the light flashes. It also allows you to adjust the brightness of the emitted light. This certainly warrants the existence of this app on your device.
Shortcut Creator
Shortcut Creator leaves nothing to the imagination, as its name is a dead-giveaway for its main purpose. This widget allows you to select a handful of features or other functionalities of your phone and put them straight to your home screen, where they will be even easier to access. For example, you can put Airplane mode, GPS, brightness adjustment, device rotation mode, and many others. It's worth giving this one a spin.
Contacts Widget
This one allows you to create a personalized hub of shortcuts for a given contact and place it on one of your home screens. It comes with more than 50 customizable widgets to put your favorite contacts and shortcuts in. You can have shortcuts for calling, texting, emailing, as well as messaging the contact in question in Viber, Skype, or Facebook. Definitely nifty. What's even better is that the widgets on board come in a variety of sizes - 1x1, 2x2, 4x1, 4x2, 4x3, and 4x4 ones. It's worth a try!