Best new Android widgets (April 2016) #2
2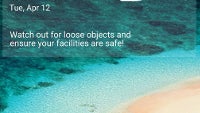 Do you use widgets on your Android device? If yes, good for you, if not, why not? After all, widgets are one of Android's fundamental features and not utilizing them is like driving your supercar to the local Walmart only - a waste of potential! It's true that other operating system support similar UI features, but let's face it, none is as advanced as Android's take on the matter.
As we are pretty keen on customization and widgets are a a major part of this ordeal, we scour the Play Store every two weeks and search for the very best new widgets. And why do we do this exactly? Simple, we want to regularly present to you the best and most noteworthy new widgets that get released on the Play Store. As it's rather hard to separate the wheat from the chaff, we do the hard work for you and show you all the new widgets that you should know about once every two weeks.
UX 5.0 G5 for Zooper Widget
Love the looks of LG's new user interface, the one that is currently making the rounds on the LG G5? If you do, here's a new skin for Zooper Widget that will try to emulate it on your own Android device. Sleek!
Sleep Zooper
We are not over with the Zooper Widget themes yet! This one is a full home-screen offering that will bring new life to your device, provided that you go the extra mile of setting it up perfectly for your device.
Flower Clock

Spring is, undoubtedly, the season of flowers! With this widget straight on your home screen, you will certainly get in mood for this time of the year. Just remember to change it once autumn arrives.
WeatherPro & Widget
New week, new weather widget! Yes, it seems like developers are really keen on developing such apps. What does this new entrant has in tow that sets it apart from the competition? For one, it's a fairly well-designed app, with simple and efficient interface, lots of useful info on board, and a whole lot of other features that make it a noteworthy pick.