Best new Android launchers and interface tools (March)
2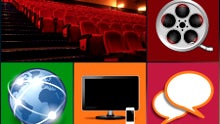 If you put enough time and effort, they say, you can tailor every Android phone to serve your unique interests and interface layout, and third-party launchers like Nova, Apex and the like, have proved it time and again.
Every once in a while, a new launcher appears that promises a paradigm shift in interacting with our mobile devices, utilizing innovative gesture-based or side-sliding launch tech, and some of them are even donning amazing graphics and extra functionality.
We took a glimpse at what's new and cool at the Play Store in the interface draping department for the past two weeks, and noticed a few launchers and interface tools that you might find useful, or at least funky to try out. Check them out below.
This interface tool lets you
install the HTC BlinkFeed
news and social aggregator on any Android phone, and then dress your launcher app with a CyanogenMod 12-inspired Sense 6 Theme.
Feeling frustrated with your Android TV dongle and its abysmal launcher interface solutions? You are not alone, that is why the DXIdev team created this simple and efficient launcher, tailored for landscape usage, with big juicy icons all around.
Speaking of big and fat, the Easy Phone Launcher is created with accessibility in mind, as you don't have to navigate your way through a number of small icons or elaborate widgets just to phone and text.
Thinking of donwscaling your power-hungry Quad HD display and boost your phone's graphics performance. No sweat, with DPI changer (root req'd) you can move it to 1080p, or you can make your Full HD phone go to 720p. Huawei has this option built into its Emotion UI, but for the rest there is DPI Changer.
TapDeck is still in beta, but holds a mighty promise. Chose from a rich collection of high-res wallpapers with this self-proclaimed "boredom beater", double-tap to change your wallpaper, or simply swipe up to discover more about the image and content relevant to it, as TapDeck is connected with the wise folks from Reddit and Wikipedia, among others.