Best new Android launchers and interface tools (March #2)
10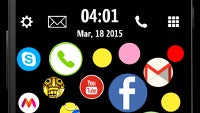 If you put enough time and effort, they say, you can tailor every Android phone to serve your unique interests and interface layout, and third-party launchers like Nova, Apex and the like, have proved it time and again.
Every once in a while, a new launcher appears that promises a paradigm shift in interacting with our mobile devices, utilizing innovative gesture-based or side-sliding launch tech, and some of them are even donning amazing graphics and extra functionality.
We took a glimpse at what's new and cool at the Play Store in the interface draping department for the past two weeks, and noticed a few launchers and interface tools that you might find useful, or at least funky to try out. Check them out below.
Not satisfied with Android Auto? Well, here is a great alternative for all you distracted drivers out there.
Want your Android to prep you for the Apple Watch interface? All apps, contacts,messages and setting in Apple Watch style are here in "colourful galaxy circle" style on the launcher home screen or lock screen. Bubble Screenlock Launcher is an innovative screen lock launcher, featuring unique design, user-friendly interface,low battery and resources requirements that allows you to launch any application with just a few taps.

Cold Launcher is a simple one which can freeze/defrost apps right on the desktop, it's also the first Android launcher to have this functionality. After freezing(disabling) apps, they are just like uninstalled but actually not, you can defrost them with a single touch. No more annoying background services or auto start. It can help save battery life by freezing apps you don't use so often, perfect for people who like to install lots of apps but don't want to slow down their Android devices because of background services or auto-starts.
Picoo Launcher claims to be the "fastest, smallest and most power-saving phone launcher created with Google Material Design on the market," yet is now devoid of all basic launcher functionality one would expect.
Access the Android command-line on your home screen! Run scripts, programs, customize your ROM, use busybox, open and control applications and more.
Yet another take on Android Auto, Drive Easy counts on huge visuals in distracting colors to make your car trip easier
This widget allows you to create an invisible / hidden area that goes to one of your installed applications when pressed. The app allows for resizable widgets, and, if the launcher permits, can overlap with other widgets.