Best new Android launchers and interface tools (February)
7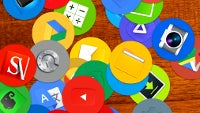 If you put enough time and effort, they say, you can tailor every Android phone to serve your unique interests and interface layout, and third-party launchers like Nova, Apex and the like, have proved it time and again.
Every once in a while, a new launcher appears that promises a paradigm shift in interacting with our mobile devices, utilizing innovative gesture-based or side-sliding launch tech, and some of them are even donning amazing graphics and extra functionality.
We took a glimpse at what's new and cool at the Play Store in the interface draping department for the past two weeks, and noticed a few launchers and interface tools that you might find useful, or at least funky to try out. Check them out below.
"Clean desk is the sign of a sick mind," to quote The Wire, as some people thrive in disorganization, and that's who Messy Launcher is all about. Their "research" shows that the more cluttered your desk is, the more likely it is that you can find your stuff, so Messy will make it extremely difficult to find and launch your most used stuff. It's also not at all optimized, like most launchers claim, and will run well only on high-end devices. Take that, minimalistic wimps. Warning, fun times ahead.
The new SlideUP Lollipop launcher, however, holds more promise than most newcomers to the launcher scene, due to the simple fact that it's been developed to launch stuff from the section your thumb actually can reach - the bottom of the display.

SlideUP offers color-coded sections at the bottom of the display - a tiled dock of sorts - which you can tap and a window with additional functions will pop up, whether it is simply an icon grid, contacts favorites, connectivity toggles, or a messaging window. These can be customized further to house whatever you please, including a tile that will slide up a small gallery with your most recent photos. You can still have your complex widgets and whatnot taking the whole homescreen if you wish, so SlideUP is a pretty clever use of space as far as launchers go, and it is done in the flat and colorful guidelines of Google's new Material Design concept. Take a look in the video below, and take it for a spin if you are interested.
Gala Launcher is a basic, but efficient new entrant in the launcher maelstrom, promising to "
make your apps load quicker, search the net with speed, and make full use of the capabilities of your phone with no dead weight
." It's got smart folder organization and a widget set, as any self-respecting launcher these days, but the focus is on privacy and security, as the app hides apps and protects your privacy with a simple gesture. There's also a lock screen with PIN/Pattern password and iOS style lock methods, too.
"Press and hold it to edit it" - that's the only moto you'll need, promises the Total Launcher developer. and the kit indeed odders a dizzying variety of customization options to suit your style.
We all know the
Big Launcher
, tailored specifically to the elderly, or anybody that's got vision problems, with big, fat icons and navigational buttons to tap on. Well, not it is getting a companion app for BIG notifications, too, which can be used independent of the Big launcher app. The notifications offer huge fonts and large icons with one-tap control. In addition, you can disable the grand notifications altogether, if you don't want to be disturbed.