Best new Android launchers and interface tools (February #2)
8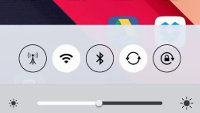 If you put enough time and effort, they say, you can tailor every Android phone to serve your unique interests and interface layout, and third-party launchers like Nova, Apex and the like, have proved it time and again.
Every once in a while, a new launcher appears that promises a paradigm shift in interacting with our mobile devices, utilizing innovative gesture-based or side-sliding launch tech, and some of them are even donning amazing graphics and extra functionality.
We took a glimpse at what's new and cool at the Play Store in the interface draping department for the past two weeks, and noticed a few launchers and interface tools that you might find useful, or at least funky to try out. Check them out below.
This brand new version of the curvy Wave Launcher has received a Material Design overhaul, and plenty of new gestures, yet you can still fit up to 120 of your favorite apps, shortcuts and even widgets.
Want to have an iOS-like Control Center on your Android, that evokes connectivity and other toggles with a swipe-up gesture. Get the new iSlider interface tool for the modes sum of a buck and change.
This three-dimensional spherical launcher might not serve much practical purpose, but it is certainly cool to use and look at, so you might want to give it a shot, be it for distraction purposes only.
By the creators of Hola launcher, the Hola Screen Lock app lets you replace the power/lock key by clicking the icon, and on some units even double-tap to lock the display.
Jealous of Samsung's Toolbox app launching thingy? Well, you can now have it on any phone. It is basically a small transparent circle you can place anywhere on the screen and move around freely. Tap on it, and it unfolds into a list of shortcuts that can be managed and modified to your liking for faster access to your most used apps, bookmarks and whatnot.
A+ Launcher is the next in line that claims to be the "smallest, smartest and simplest launcher on the market," and it its case the developer has a point, as A+ Launcher is less than 1.5 MB, and still offers basics like automatic categorization for your apps in dedicated folders.