Best new Android icon packs (July 2016) #2
0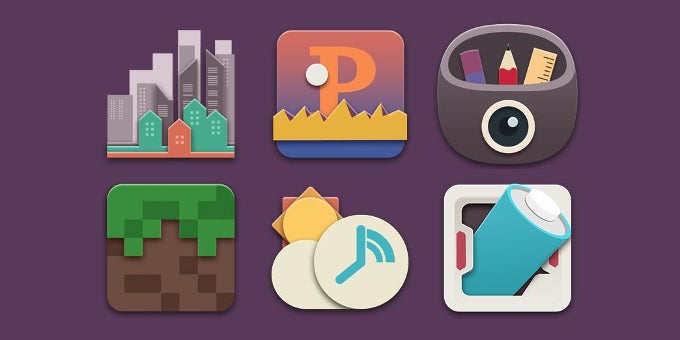 With an icon pack, you can easily transform the interface of your Android device from "boring" to simply "AWESOME" in mere moments.
As you certainly know, this quick and easy overhaul requires you to have a custom launcher, but it's totally worth it, we promise! We love icon packs and we are certain many of you do so, too!
After all, it can't be argued that the default icons phone manufacturers and app developers treat us to are not exactly the best-looking fruit in the bowl.
As we adore icon packs (actually, who doesn't?), we've taken upon ourselves to show you the best new ones that have stormed the Play Store and attracted our attention. We've been rounding these in a post every two weeks or so for over a year now, and we've stumbled upon many gorgeous icon packs.
Rectron
With its trendy squarish shape and subtle wrinkled-paper pattern, Rectron is an icon pack that sets itself apart. All of the 2,350+ icons on board are a sight to behold. The matching wallpapers are also pretty neat, making the whole Rectron package a pleasant sight to behold.
Rectron icon pack
Antimo
Enough with these simplistic icon packs that are making the rounds on Android. This one is relatively colorful and fully employing a Materialistic style that is without a doubt a joy to look at. We love it, and we think you might love it, too! There are plenty of icons in Antimo (3,400+, to be exact), with over 40 wallpapers and support for 29 third-party launchers.
Okay, we admit it, we're suckers for white circular icon packs with black details. That's why Eos grabbed our attention last week and has not let go since. It's definitely an icon pack that will make your wallpaper pop out, which is always welcome... if your wallpaper's a good one, of course!
Knight
Looks familiar, right? Well, it's developed by the same dev that released Eos, the previous icon pack we showed you, but this time around, the theme is inverted. You get black circular icon backgrounds with white details. We can't say we like it as much as Eos, but it's definitely better than the average for the past month!
DarkFlow
Download ($0.99)
There is something about darker icon packs, we are not sure what... Truth is, whenever we stumble upon something dark-themed, we usually end up liking it. DarkFlow is no different - it took it just a few minutes before it crept up in our hearts. We are pretty fond of it now!
Magme
Download ($0.99)
If classic icons with pastel colors are the ones that propel your boat, then Magme would definitely be your cup of tea. It's definitely a laidback icon pack that will suit more hipsterish themes.
It is clear that the developer behind Cascade favors those yellowy-golden hues that are often seen at sunset as these colors play a major part in that icon pack. There is something pleasing about that one, do give it a try if you are fond of warm golden colors!