Best new Android, iPhone and Windows Phone apps of October 2015
3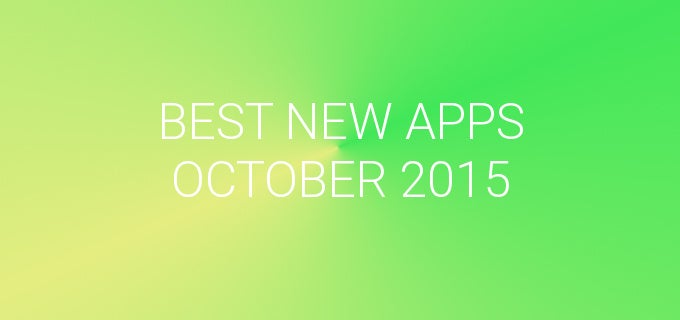 October is right behind us and this means it's time for review: we look in the depths of the application stores to find the very best new titles released in the past month for Android, iPhone and Windows 10 mobile (or Windows Phone if you prefer).
October is traditionally a strong month for apps
With a couple of larger companies releasing new apps, a few important updates to big apps, and some clever new ideas from smaller developers, we start first with the Android and dual-platform (Android and iOS) apps, transition to iOS-only new apps after that and finish with several new apps for Windows Phone.
Which one is your favorite? Take a look at our selection of the best new Android, iPhone and Windows Phone apps of October 2015 and tell us in the comments right below.
New for Android (or dual platform)
Boomerang from Instagram
Price: Free
Yet another take on the Live Photo concept, coming straight from Instagram. Boomerang will shoot a few frames and instantly stitch them together into an .mp4 video file, ready to share to Facebook or Instagram as soon as it has been taken. Fast, fun, and straightforward.
PHHHOTO
Price: Free




PHHHOTO is a mix between a live photo creator and social media. You need to make a profile in order for the app to work. Once inside, you can follow hot profiles and your friends. On the photography side – it's an app exclusively made for short animated images, sort of like GIFs. You can switch between the selfie cam or the rear camera of the device and an animation automatically gets captured when you press the shutter button. Then, it's instantly ready for sharing.





Launch by Quixey
Price: Free

Quixey's Android launcher is an attempt at an "everything at your fingertips" launcher – swiping down will give you a deep-searching tool, much like iOS' Spotlight; swiping up will instantly pop the app drawer open; and swiping to the leftmost homescreen will show you a newsboard, card-based panel, which can be customized. Said panel can bring up stock information, Twitter topics, Yahoo weather forecasts, and a few more services. We hope there will be even more options when Quixety goes out of beta.

Launch by Quixey



Arrow Launcher
Price: Free

A Microsoft Garage Project, Arrow looks like a mix of concept, taken from Android, iOS, and Windows Phone. It's a pretty simplistic launcher that will analyze your app usage, and give you a single homescreen with your most often-launched apps. Swiping to the right screen, we will find a contacts list, and further to the right – a quick Notes widget. To the left of Home, we have Recents, which will show you recently downloaded items, recently contacted people, viewed photos, or installed apps. Next to it is a Widgets screen, dedicated solely to your widgets of choice. All these screens can be turned off or on and rearranged at the user's discretion.

Pulling up will unveil a tray, which contains app shortcuts (these are static and the launcher will not rearrange them automatically), as well as Wi-Fi, Bluetooth, flashlight, etc. toggles – much like iOS' Control Center.



KnockOn - Tap to wake
Price: Free




If your phone lacks a "knock to wake" feature — made famous by, but not limited to, LG's phones — KnockOn will remedy this. You can set a double-tap to wake and double-tap to sleep separately. Unfortunately, the wake feature only works on OLED screens.






BuzzFeed News
Price: Free
BuzzFeed is a large site, which mixes serious news, with funny anecdotes, with nonsensical pictures, et cetera – you get it. The News app is a branch off the main BuzzFeed app and is designed to get you only the serious or important stuff, with no distractions inbetween. It's a got that Material Design flair and puts little in the way between you and the content.
BuzzFeed News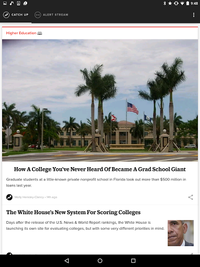 Adobe Capture and Illustrator
Price: Free
Adobe continues to roll out its apps for artists on the go, Capture and Illustrator being the latest offerings. Now, keep in mind that these apps are free to download, but are meant for use by active Creative Cloud subscribers.
Capture allows you to export color pallets, shapes, and brushes from photos, then use the new assets in other CC tools – such as Photoshop or Illustrator.
Illustrator is a drawing app, which will probably work better on phablets or tablets. In any case, it allows artists to create layered vector illustrations and export them to the desktop Illustrator or Photoshop. Great if you are on the go or just lack a drawing board of any sort at home.
Adobe Capture and Illustrator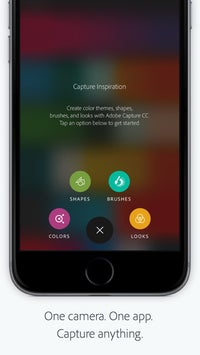 KWGT Kustom Widget Maker
Price: Free
Feeling a bit disappointed in never being able to find the widget that gets it just the way you want it to? Well, why not make your own? KWGT empowers everyday users to make their very own active widgets, and it's most certainly worth your attention, if only for just a try.
KWGT Kustom Widget Maker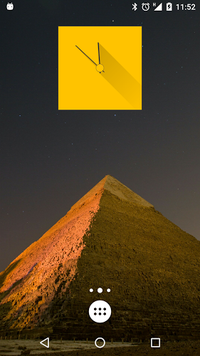 CloudCal
Price: Free (IAPs)
CloudCal is a pretty cool calendar, which visualizes the days and hours when you are busy right on its Month view. Its screens are a bit more complex, especially when compared to the flat and simple trend that Material Design-compliant apps are following, but once one gets used to to using CloudCal, it becomes evident that all of that "screen clutter" is actually relevant and useful information. Now, the app's full potential is locked behind a $2 paywall, but if you are one who has dozens of tasks and appointments constantly stepping over each other in their calendars, you should at least check the free version out.
CloudCal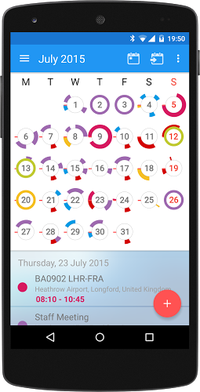 Who's Down
Price: Free
Google's take on a meetup app, who's down works pretty straightforward. You flip a switch to inform friends nearby that you are down for [insert custom reason]. Others can check the app and decide if they want to join you or not, then get in touch. The switch will turn off automatically after 3 hours, so there's no need to worry about it.
The app is currently in beta. You need to be invited to use it, and this happens from within the app once you download it.
New for iPhone only
Tweetbot 4 for Twitter
Price: $4.99
Probably the most famous Twitter client out there, Tweetbot got a new iteration fresh out the oven – compatible with iOS 9 and split-screen capable for you iPad Air 2 / iPad mini 4 owners out there. This is the first time the tablet version of Tweetbot gets an update in a year, so the visual rehash for iPads is definitely appreciated.
Cosmetics aside, Tweetbot is loved for its in-depth statistics and detailed tweet / user information, which you can't find on the official Twitter app. It's definitely a must for anyone who spends a lot of time on the social network.
Pause
Price: $1.99
Pause serves as a relaxation app and nothing else. Tap and hold on your iPhone's screen and you will be treated to soothing colors and sound effects, which should help you calm down and focus. Call it a mini-meditation app from the digital age, if you wish, it's only natural that this will work more for some than others.
Live GIF
Price: $1.99
It was only a matter of time before users started to feel the need to be able to easily export their Live Photos, taken with their brand-new iPhone 6s units, into GIF images. Naturally, astute developers will see the potential need for such a tool, and this is how we suppose Live GIF was born. The app lets you export any of your Live Photos to either a GIF file or short movie, and instantly share it in your favorite social networks.
Adobe Photoshop Fix
Price: Free (CC subscription)
The mobile Adobe squad gets a new addition in the face of Photoshop Fix. As the name suggests, Fix is about the little things – healing some image imperfections, touching up areas that are too light or too dark, color adjustments, et cetera. Of course, to use it, you will need to be a Creative Cloud subscriber.
New for Windows Phone
PicHit Photo Finder
Price: Free
PicHit is a neat app to have if you are looking for an image on a particular topic that you can then use. It is an interface that connects you with photographers and allows you to search in its large database. The app is universal and works on both Windows 10 desktop and mobile.
Translator
Price: Free
The powerful Translator app for Windows Phone has some of the most powerful features available for its kin: live translation of images via the camera translation feat, the impressive voice translation where you just speak to your phone and can get translations into some 18 languages, and the useful offline translation.
Twitter
Price: Free
Twitter is not exactly a new app, but it has received a major overhaul and given the rather stale state of Windows Phone apps, it's worth mentioning it here. The new app has four different tabs and allows you to stay on top of your buzzing tweets easier.
Now reading