Best new Android, iPhone, and Windows Phone apps of November 2014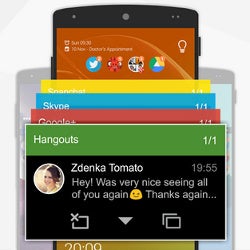 With another month behind us, it's time for our usual recap of the best Android, iPhone, iPad and Windows Phone games for the past month of November 2014, but what's not habitual is that we've had some fairly exciting new applications arrive to the Android and iOS platform.
As for Windows Phone? Some key players from the two largest platforms have made their way onto Microsoft's app catalog, and that's always welcome news.
From a surprising new launcher by non other than Nokia (yes, an Android launcher), to a major update to one of the best cooking apps out there, a fresh new live wallpaper application, and also new entrants in various other categories of apps, you can check out the best new Android, iPhone, and Windows Phone apps right below.
Z Launcher Beta
Category: Launcher
Price: Free
The Z Launcher Beta is an innovative solution from Nokia's emerging platforms group, which aims to omit the use of multiple home screens. The launcher only has one page, which displays a list of apps that it "thinks" you might need for the particular time of day. Of course, as with every prediction-based app – this one will need some time, before its guesses get more accurate.
Secondly, the launcher allows users to look for specific apps by scribbling letters on the screen. For example – if you are looking for the "calculator" app, just scribble a "c" anywhere over the screen, and you will be presented with a list of apps, starting with the letter. Typing out a second character (in our case - "a") will further narrow down the list of choices.
Minima Live Wallpaper
Category: Customization
Price: Free
motion
, the Minima Live Wallpapers brings a truly good looking and fully customizable wallpaper experience. You get to pick all aspects of your live wallpapers and it all moves as you swipe between home panels. If you like the app, you might want to also get the premium version where all 'Pro' themes are unlocked.
C Notice
Category: Productivity
Price: Free (in-app purchases)
QKSMS
Category: Messaging
Price: Free
Lumific
Category: Image gallery
Price: Free
Getaways by Groupon
Category: Deals/Travel
Price: Free
Facebook Groups
Category: Messaging/Social
Price: Free
Yummly Recipes & Recipe Box
Category: Cooking
Price: Free
Sleep Better with Runtastic
Category: Health
Price: Free
Lollipop Screen Recorder
Category: Utility
Price: Free
Divide Productivity Preview
Category: Business Suite
Price: Free
Material Manager
Category: File Manager
Price: Free
Keezy Drummer
Category: Music
Price: Free
Straw
Category: Social polling
Price: Free
Next Glass
Category: Food & Drink
Price: Free
Molecules
Category: Science explained
Price: $12.99
snowbuddy
Category: Travel advice
Price: Free
American Express Unstaged
Category: Music
Price: Free
Glose
Category: eBooks
Price: Free
Duolingo
Category: Language learning
Price: Free
WolframAlpha
Category: Search engine
Price: $2.99
Threema
Category: Messaging
Price: $1.99
Wunderlist
Category: To-dos and lists
Price: Free
Chronos Calendar
Category: Calendars
Price: $1.99
8.1
phone version, a complete remake from the ground up supporting the new WinRT/universal app mode.
Movie Creator Beta
Category: Video editing
Price: Free