Best new Android, iPhone and Windows Phone apps for November 2013
4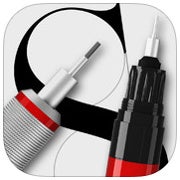 What a month for apps! The biggest app news of the month is without a doubt the fact that Instagram finally made its way on Windows Phone (it's still a beta), covering one of the most glaring holes of Microsoft's operating system. Windows Phone head Joe Belfiore promised that this is just a sign of things to come and
Microsoft will likely catch up with apps with Android and iOS by the end of 2014
. This optimistic forecast however would mean a lot of work on behalf of developers in coming months.
The two biggest platform, Android and iOS, on the other hand, are now both above the 1 million app mark, and are quickly adding more and better apps. Camera Awesome is the most notable arrival on Android - the app has been on iOS for quite a while, and it's now migrated over to Android as well. Well-known developer Koushik Dutta released his long anticipated AllCast app that allows to easily stream videos to Roku, Apple TV, Xbox and others.
Other apps we personally liked include titles like Sol Calendar with its brilliant iconry as well as 500 Firepaper that keeps your wallpaper always fresh and high-quality.
We can't wait to hear about your favorites and suggestions in the comments below, but right now - with no further ado - here are our picks for best Android, iOS and windows apps of November.
Best new Android, iPhone and Windows Phone apps for November 2013