Best new Android and iPhone apps of the week (September 1st - September 7th)
2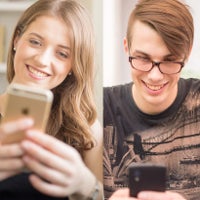 Another week has passed, and another heap of apps has been uploaded to the App Store and Play Store. For those who wish to try new apps on a regular basis, sifting through all of the new ones may be a daunting task. But fear not – we're here to help, as each week, we comb through the stores and pick some of the more eye-catching apps that are out there.
This week around, we have some learning apps – for piano, and for Java, the brand-new Google Street View autonomous apps, and a couple of other sweet, sweet surprises. Which ones did you download, and did you like them? If you know of a brand-new app that deserves to be in this list, but we overlooked – drop us a line and we will find a way to have it mentioned in the future!
New for iOS
Zen Brush 2
Price: $2.99
This artsy little app allows you to create scribbles and painting in the style of East Asian ink brushes. With a variety of canvases, representing the typical paper materials used in the area, and a brush engine, which tries to mimic the ink spills and strokes of old, artists can surely have a blast and maybe achieve some pretty cool results.
Clips Video Editor
Price: free (IAPs to remove watermarks)
Made by developer Fly Labs, who specializes in camera apps, Clips is a pretty comprehensive editor for your video – you can add different clips and photos, spruce them up with music or voiceover, apply various transitions, and set fast and slow
motion
spots. Certainly give the free version a spin if this sounds interesting to you.
Inkboard
Price: free
Simulating real-life drawing tools, Inkboard allows you to doodle over photos. Sure, it's not the only app to have such functionality, but for one reason or another, it doesn't look as "fake" as some of the others do. Having a stylus certainly helps, but, even if you don't, go ahead and try it – it's a free download!
Android Wear
Price: free
That's right, folks. Android Wear has finally made it to the iPhone! What this means is that any smartwatch enthusiasts that prefer to use Apple's handset are no longer obligated to buy an
Apple Watch
, should they want any type of wearable. There appear to be some kinks left for ironing out, as reports point out various bugs, and the overall functionality is mostly limited to notifications, but hey – it's something. For a "full" smartwatch experience on iOS, you are still better off with the Apple Watch, at least for now.
Simply Piano
Price: free
It's never too late to learn the piano, and this app just might help you. Simply Piano will show you your exercise on the iPhone's display and then "listen" to you as you play it (you can also plug a MIDI controller in the iPhone). The software can distinguish tones and timing, so it will detect your mistakes and guide you better through the successive excercises.
New for Android and iOS
Google Street View
Price: free
Google's Street View has finally gotten its own, autonomous app. If you own an Android handset, chances are that a recent update has already downloaded Street View for you. If not, just follow the above link. The app gives you quick access to not only the Street View footage, but spherical photos from both Google and users. Additionally, you can easily shoot and upload your own spheres via this app. Let the SkyNet location knowledge enrichment program begin!
Javvy - Learn how to code in Java!
Price: free (IAPs)
The name here is a dead giveaway – Javvy wants to teach you how to code in Java, but approaches the subject with an attempt to be entertaining or at least not dry and tedious. There are 11 lessons, from "beginner" to "advanced", and the very first two are free, while the rest are obtained via in-app purchases.
MGS V: The Phantom Pain
Price: free
So, are you playing the latest-and-greatest Metal Gear Solid that came out just 6 days ago? Well, you should! This little companion app came out on the game's launch-day and lets players check and interact with their map without having to open any menus in-game, which is a great time saver and can often help you out when in tough situations (like calling from a chopper from your smartphone / tablet, while keeping one hand on the joystick, running from the 47 angry soldiers who's radar you just blew up). Unfortunately, the app does not work for PC players and Konami has confirmed that there are no plans for this to change.
New for Android
Mirrativ: Live Stream Any App
Price: free
Ever wanted to stream your very own Vainglory gameplay, together with facecam and all that jazz, just like the Twitchers, Hitboxers, and YouTubers? Well, Mirrativ is the first-ever mobile app to allow real-time device broadcasting – together with footage from the phone's front cam superimposed on the stream.
Soo, this may drain tons of battery, and it may not play well with all smartphones, especially when resource-heavy games are involved, but it's certainly a noteworthy app.
Metal Detector
Price: free
That's right folks, it really does work. Granted, you won't be finding gold with your phone and this app anytime soon, as it really needs the device to be close to said metal in order for readings to peak. It's still a nice, geeky little thing that you can toy around with a few times, show it to your friends, and maybe finally find out if "x" thing is actually made of metal.