Best new Android and iPhone apps of the week (September 15th - September 21st)
4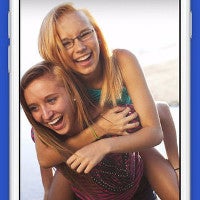 Another week has passed, and another heap of apps has been uploaded to the App Store and Play Store. For those who wish to try new apps on a regular basis, sifting through all of the new ones may be a daunting task. But fear not – we're here to help, as each week, we comb through the stores and pick some of the more eye-catching apps that are out there.
This week around, we have some fun apps for coloring, or meeting celebrities, and organizational apps that keep track of your hours of practice with a certain activity, or help you be productive by blocking off smartphone distractions. Hop on down to check all of them out. Which ones did you download, and did you like them? If you know of a brand-new app that deserves to be in this list, but we overlooked – drop us a line and we will find a way to have it mentioned in the future!
New for Android
Productivity Browser: Tangram
Price: free
If you find current browsers a bit too clunky, requiring way too many gestures for simple tasks, such as swapping tabs, you may want to try Tangram. It's a browser, designed around using as much screen space for showing content, with only a few buttons placed on a tray at the top, and a swiping gesture for looking at your tabs. Favorite pages can easily be added to a "stack" for single-tap access, bookmarks can be arranged in sub-folders (yes, yes – innovation!), and general performance is pretty solid.
Productivity Browser: Tangram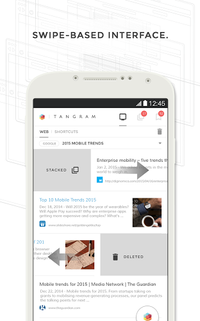 Microsoft Send, for Office 365
Price: free
Microsoft's Send is now available for Android. It's an app that tries to make email communication less clunky-feeling, and much more on-the-fly – a-la chat messenger. You log in with your Office 365 account, and all your contacts from there sync up to the app's main page. From here, you can send a quick email that feels like an instant message, as you don't need to fill in a subject line, even, just key in something, and press send.
You don't get all your emails in the app, though, as the whole point is to make swift, targeted messages to your contacts, regardless of the medium, as they don't even have to have the app installed to get those.
Attack of the health apps:
Moto Body and S Health
Price: free
Download for Android:
Both Motorola and Samsung have opened their health apps up to other Android devices – instead of being exclusive to their own brands, the Moto Body and S Health will now be available for all devices, running Android 4.3 and Android 4.4 respectively. You know how the song goes – they track heart activity, steps, calories burned, distance traveled, water intake, so on and so forth. If you've been using Google's Fit for a while and felt it to be a bit slim on features – give these two a spin and see which one you like better.
Moto Body and S Health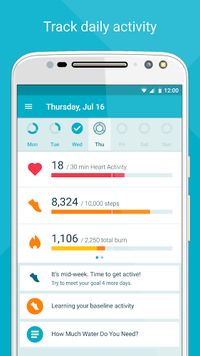 Move to iOS
Price: free
Apple's first app for Android is an assistant, which helps users to copy the data from their Android smartphone to an iPhone – nothing much to it. Its introduction to the Play Store was a bit controversial – maybe more than it should've been. Phone manufacturers, such as Samsung, Motorola, HTC, Sony, et cetera – have long been making apps that help users copy their data from one phone to another – this includes Android-to-Android and iPhone-to-Android transfers. There are also 3rd party apps that will copy your data from Android to iOS, such as the (drum roll) Copy my Data app. However, once the official Move to iOS came about, Android fans swarmed the comments section, 1-starring the app. C'est la vie.
New for iOS and Android
Rock Like the Pros
Price: free (IAPs)
Overlapping in the New Apps section, we have Rock Like the Pros. As the title suggests, it's an app, full of lessons for aspiring guitar players. Of course, you only get a small piece of the infinite rocking knowledge, before you have to pay for the advanced lessons, but hey – the app makers need to make a living. Check it out, see if it strikes a tone, and don't forget to practice!
Rock Like the Pros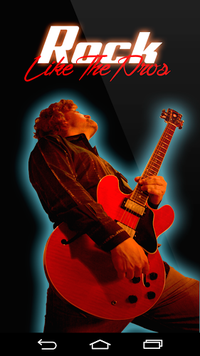 New for iOS
Mapkin – GPS with Smart Directions
Price: free
Mapkin is not just any nav app – it looks to become more useful with the addition of real tips from other drivers. This means that the inhuman "Turn right after 300 feet"can turn into "Turn right after you pass the gas station", et cetera. We all know how easy it is to miss a turn with conventional GPS apps, so this one sounds promising. Provided, the app needs a growing user base in order to reach the peak of its usefulness – the pitfall of every social service.
The Earth by Tinybop
Price: $2.99
Let's do some learning! This app will teach its users all about landforms, their creation, weather, erosion, so on and so forth. Is your young one spending a bit too much time on the iPad? See if this will grab their interest!
The Stream App
Price: free
Stream looks to fix a problem with photo sharing post-party, when it's too much of a hassle to get ahold of other party goers and force them at gunpoint to organize and send you the photos they took. With Stream, you all get a cloud storage spot for your event. Start up a stream, add everyone that's participating, and boom – all the pictures any of your friend takes will be up and available for access by everyone. You can even watch live "streams" if you are currently held up and can't participate at a friend's party.
6Tribes
Price: free
6Tribes helps you find friends with common interests and discuss the things you are passionate about with like-minded individuals. Thus, the name of the app – you are essentially joining or creating "tribes", united by their common interests. Sounds a bit like Reddit, with its plethora of subreddits, but hey – who ever said that there should be a limit on the number of social media services?