Best new Android and iPhone apps of the week (October 13th - October 19th)
1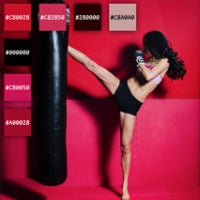 Another week has passed, and another heap of apps has been uploaded to the App Store and Play Store. For those who wish to try new apps on a regular basis, sifting through all of the new ones may be a daunting task. But fear not – we're here to help, as each week, we comb through the stores and pick some of the more eye-catching apps that are out there.
This week around, we have some cool apps to share your moments with, as well as get a snap of the way your friends have reacted to what you shared. There's also a new email client on the iOS block, and a pretty useful ringtone maker in the Play Store. Which ones did you download, and did you like them? If you know of a brand-new app that deserves to be in this list, but we overlooked – drop us a line and we will find a way to have it mentioned in the future!
New for Android
TapTag
Price: free
TapTag allows you to take a picture at a specific spot and virtually "leave" it there for someone else to find. The app employs an augmented reality ideology – other users can see the moments that you "dropped" through their phone's viewfinder, and then see what you did at that specific place, how you experienced it, and what moments you chose to take pictures of.
TapTag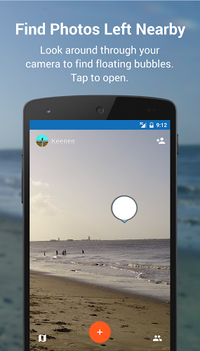 Betternet
Price: free
If you are put into a situation where you can't have access to specific websites – due to government blocks or just a strict No Facebook policy at work – this little app may help you out. It will take your data through a proxy, so you should be able to jump over some limitations and post that "I am bored" status for all your friends to see. We'd still suggest you being careful with private data when you know it's being channeled through 3rd party servers.
KWGT Kustom Widget Maker
Price: free
Feeling a bit disappointed in never being able to find the widget that gets it just the way you want it to? Well, why not make your own? KWGT empowers everyday users to make their very own active widgets, and it's most certainly worth your attention, if only for just a try.
KWGT Kustom Widget Maker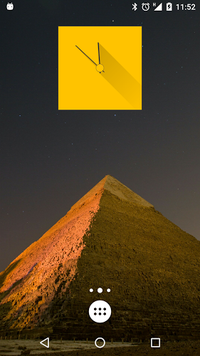 Ringtone Maker
Price: free
Yes, there are tons of ringtone-making apps out there in the Play Store, but it has been a while, since we've seen a brand-new one that actually looks like a polished product. Ringtone Maker will let you pull any song from your library and cut out a piece of it to turn into a personal ringer. You can then set it as the default sound for incoming calls, or attach it to a specific contact straight from the app – pretty comfortable. All of this is complemented by a pretty easy and straightforward interface.
Ringtone Maker
Samsung's Game Tuner
Price: free
Samsung released a new app, which allows users to fine-tune the details of their games. The app is designed to work only on the biggest and best — Galaxy S6, S6
edge
, S6
edge+
, and Note5 — and it should help gamers squeeze out some extra battery life when they are going to be far from an outlet for a prolonged period of time.
New for iOS
Live GIF
Price: $1.99
It was only a matter of time before users started to feel the need to be able to easily export their Live Photos, taken with their brand-new
iPhone 6s
units, into GIF images. Naturally, astute developers will see the potential need for such a tool, and this is how we suppose Live GIF was born. The app lets you export any of your Live Photos to either a GIF file or short movie, and instantly share it in your favorite social networks.
Zero
Price: free
A pretty cool take on an email client – Zero employs a card-based interface. This means you are fed only one email a time, and you choose whether to read it or instantly archive it by just swiping on the screen. A very smooth implementation, though, we imagine you would want to use this app for your "serious" email accounts – the ones that don't usually get spam, that is.
Chubble
Price: free
This app lets you share 90-second clips with your friends, then watch their reactions as they view them. When a user is invited to watch your moment, their selfie cam will turn on and take a snap of their reaction. Cool way to share in the digital age.
Snap Palette
Price: $1.99
For designers who want to build a template around a specific photo, or just like the colors in an image and want to use them in some way – Snap Palette allows one to create a palette from any photo they feed into the app. The HEX color codes are instantly available to share straight from the app, so you can get straight to work.