Best new Android and iPhone apps of the week (July 21st - July 27th)
Salutations, app-thirsty smartphone aficionados! The day has come again, just like every week, for us to grind through the App Store and Play Store and come up with some interesting games and apps for you.
So, we have a couple of pretty interesting social apps, some entertainment for when you get together with your friends, some productivity and mind-expanding apps, and last, but most certainly not least, Microsoft's Hyperlapse (a pretty sophisticated timelapsing service) has finally hit the Play Store!
So, check the apps out, let us know – what was awesome and what didn't do it for you. If you know of a new app that should be here, tell us – we will find a way to squeeze it in next time around!
New for iOS
Truthly
Truthly is currently iOS only, but an Android version is under development. The app serves as a mixture between a reality check and a popularity contest. Basically, you can get feedback about your personality from your friends and you can dish it right back. All comments are anonymous, so the truth can finally come out. We wouldn't suggest you take it too seriously (remember ask.fm?), though, might be fun to spend some time with it.
Minty

Minty is a clear-cut social media, much like Facebook. If you've grown tired of the latter, or just want to have a place to share stuff with your own clique of friends – give it a go. It has a great, clean interface that we find enjoyable. Not sure if it's going to make it in the long run, but hey – you never know.


Weatherfiy
A minimalistic weather app that aims to show you only the most important data for up to a 5-day period. It's simple and looks neat and fresh – there's not much else to be said about it.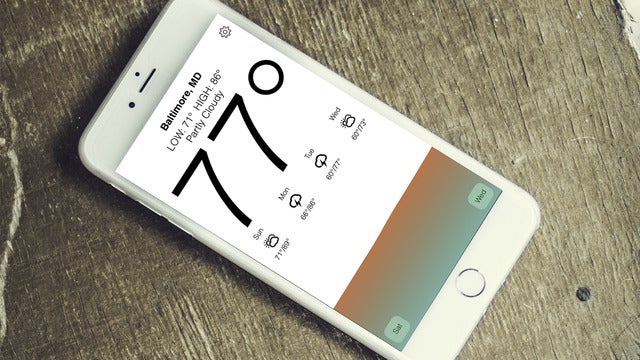 Concurrency

If you are obsessed with training your brain, you may wish to give this one a spin. Concurrency will interrupt you at random times and ask you to solve a simple puzzle before you can go about whatever you were doing. The point is to help better your multitasking skills. Also, here's a list of the 5 best mind-training maps we found on the App and Play stores – just in case you missed it.


Office Suite – Quickoffice
This may be interesting to the productivity folk out there – a collection of the vital Office tools for iPhone and iPad. The app supports Word, Excel, and PowerPoint files in formats from 1997 to 2010. You can create, view, and edit at will. There's also a pdf viewer, which can do word-to-pdf and pdf-to-word conversions, and an image viewer, which supports jpg, png, gif, and bmp.
Word Keeper

For writers and students, Word Keeper will help you keep track on your projects, showing you word count and time spent on a specific one. Good if you are feeling lost with your pacing and/or need to measure whether your tempo will get you a finished product by the deadline.





Audiobus Remote

For the mobile musicians out there – if you've been using Audiobus to link a few music apps together, you've probably been met face to face with the not-so-friendly app-switching UI. Audiobus Remote seeks to help you with that. Install it on a separate device and bring it close to the original one that you are using to play all the apps on. The two gadgets should try "talking" to each other immediately and you will see all your Audiobus connections on your second device, together with quick-use controls for every app (these are programmed by the apps' creators, so what kind of controls you get is at their discretion).


New for Android
Microsoft Hyperlapse
With Hyperlapse, Microsoft set out to help users create time-lapsed videos
without shakiness
. The idea is that we sometimes want to share clips that are just a bit too long, with a lot of nothing inbetween interesting points, so they end up being unwatched even by us. Hyperlapse tries to remedy this by letting us speed up said clips, but keep them relatively un-shaky. There's a lot working in the background and the tech has been demoed since last year. Hyperlapse was
beta-launched
in May, and is now considered "final". Give it a go!
Slide for Reddit

A Reddit viewer that looks prettier and more Material Design-ish than most of its competitors. It's still in beta and we did experience a single force-close while testing it. Still, we liked where this one is headed. Give it a try Reddit-heads, tell us what you think.





musical.ly

A fun little app that allows you to create mini music videos, or just outright lip-sync to your favotite tunes. Then share and become a star... or just have some fun with your buddies.


DUFL
DUFL is an innovative service aimed at those, who often travel on business trips. Instead of having to wash, iron, and pack your business outfits every single time, DUFL will store them for you. Once you book a trip – the serice will dry-clean and neatly pack your outfits and send them to wait for you at your hotel. When your business visit is over – just send the clothes back to DUFL. You can add and take out outfits from your suitcase at will.
The costs for the whole service are $9.95 per month for storage and $99 for a round trip (that includes shipping to, return shipping, and cleaning fees).
Hollywood Game Night

Designed to recreate the NBC show of the same name and let you play it with your friends. A fun app that just may help you shake up a stale party. We suggest using a smaller phone as some of the games include handing the device over to other players numerous times – and we all know how that can end.





JustWatch - Movies & TV Shows

If you use many different streaming services to get your TV shows and movies, you may often find yourself lost in the plethora of apps. JustWatch acts as an aggregator which helps you navigate a number of streaming channels from the app, and helps you look for movies and TV shows faster.