Best new Android and iPhone apps of January 2016
0
With January behind us, it's time to take a sort through all the new apps that have made their way onto Android and iOS, and select the best ones.
The top spot in our selection for the month goes to Music Memos, an app that has proven to be extremely popular with those involved with music: whether it is to record a melody or a musical idea, this is an app that seems like a godsend for quickly recording your inspiration.
Then, there is the launch of the trippy GIF maker Hyperspektiv, the long-awaited launch of the Kickstarter app on Android and a lot more.
With no further ado, here are the best new Android and iPhone games of January 2016 right below. Which one is your favorite and why?
#1: Music Memos
Price: free
Last week, Apple brought a
major update to Garage Band
. Together with it, the company also released Music Memos. A very simplistic, yet helpful app for musicians to be able to quickly record a musical idea before it's gone from their heads forever. The app uses the device's microphone to record whatever you are playing, then analyzes the chords and rhythmic patterns to automatically add some drums and bass to the idea. Everything in this app is so one-tap, set-and-forget that musicians literally have no excuse for not jotting down their ideas.
#2: Hyperspektiv
Price: $1.99
This app adds some heavy filters to your camera, totally distorting reality for some really trippy effects. The app allows you to adjust the effects in real-time while recording a video for that extra artsy effect, and you can basically end up with a clip that looks like the other side of a black hole. Pretty cool for shutterbugs who often forget that there is a smartphone attached to their camera.
#3: Kickstarter
Price: Free
If you love browsing Kickstarter projects, occasionally backing the odd genius idea – you'll be happy to know that you can do so from your Android device now. The indie project backing service has had an iOS app for a couple of months now, and it has made the natural jump to Android this last week.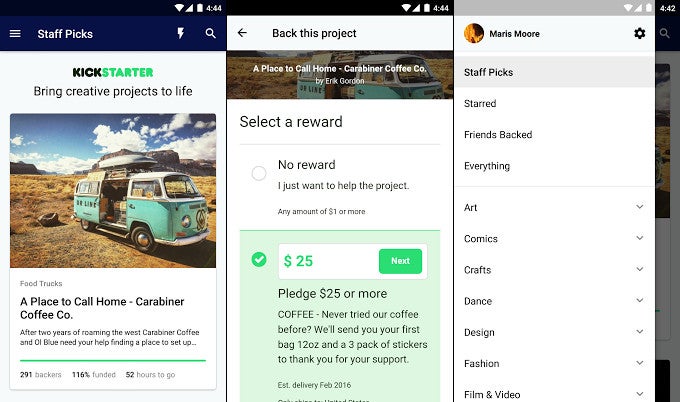 #4: CHOMP
Price: $2.99
This app gives you over 50 humorous hand-drawn animations that you can attach your (or anyone else's) face to, using the phone's camera. Operation is extremely easy as the app is meant for use by children and grown-ups alike, and we have to say – it's a blast of silliness. You can record your newly animated self in a video clip and share it with friends, as can be expected.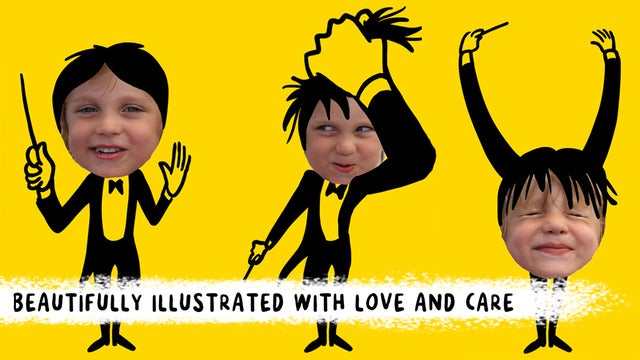 #5: Microsoft Selfie
Price: Free
Yet another app to touch-up your mug in that almost-perfect selfie. Microsoft's offering employs a number of algorithms, making its effect smoother and less in-your-face (pardon the pun) than your average everyday "beautify" app. There are plenty of presets to toy around with and it's highly probable that you will find a favorite or two among them. Give it a whirl!
#6: Proud
Price: $4.99
Proud is a to-do app on steroids, combined with productivity scheduling, and bundled up with a highly usage-friendly interface. Certainly a useful app if you are more of the... let's say creative type that tends to get distracted a lot.
Proud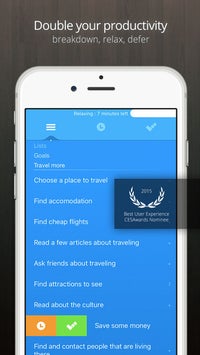 #7: Action Launcher 3
Price: Free
A light, almost stock-like launcher, with a number of enhancements and improvements. You can add favorite app shortcuts to pop up when you activate the Google search bar, you can have a Quicktheme setting enabled, which will draw color palettes from your wallpaper and apply them to widgets and icons. App folders can be turned into "covers" – tapping on one of these will open an app, while to open the folder, one needs to swipe on it. Apps that have widgets will have a "shutter" mini-icon on them, showing that the user can swipe on top of the app shortcut to open its widget. Lots and lots of stuff to play with for launcher aficionados!
#8: Wi-Fi Transfer
Price: Free
Created by none other but Samsung, this app lets you transfer files wirelessly between your Galaxy device and your PC. It's a nifty little piece of tech that gets everything done in a jiffy, provided both devices are on the same Wi-Fi network. If you don't own a Galaxy — don't fret — here are
some similar Android apps
you can use instead.
#9: Recordr
Price: Free
A pretty simple, yet pretty powerful audio recording app. It looks nice and offers a nice selection of themes on top, and also has a few processing options for gain boost, noise gating, noise reductions, and an option to attempt and remove echo.
#10: CornerTube
Price: $1.99
With iOS 9, Apple brought split screen and picture-in-picture video to the iPad Air 2. That's awesome and all, but one of the most viewed video-streaming service doesn't really support that out of the box. We are, of course, talking about the YouTube app.
CornerTube is one of many solutions for this problem. Much like the name suggests, this app will let you stick a YouTube clip in the corner of your iPad's screen, so you can have it running while doing various other tasks. Supports iPad mini 2 / iPad Air and above, as long as they are running iOS 9.
Now reading