Best new Android and iPhone apps (January 19th – January 25th)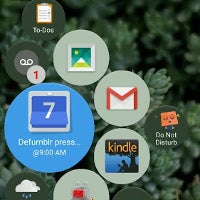 Hey, guys! Another week has passed, and as always – tons of new apps have popped up in the App Store and Play Store. For those who are always on the look for fresh new software, sifting through all of the new uploads may be a daunting task. But fear not – we're here to help, as each week, we comb through the stores and pick some of the more eye-catching apps that are out there.
This time around, we have a cool app that adds fun effects to the iPhone's camera, Apple's new Music Memos helper for musicians, an app to help you organize group meetups and parties, and a cool lockscreen for Android. Let's dive in and, as always – if you know of a brand-new app that deserves to be in this list, but we overlooked – drop us a line and we will find a way to have it mentioned in the future!
New for iOS
HYPERSPEKTIV
Price: $1.99
This app adds some heavy filters to your camera, totally destorting reality for some really trippy effects. The app allows you to adjust the effects in real-time while recording a video for that extra artsy effect, and you can basically end up with a clip that looks like the other side of a black hole. Pretty cool for shutterbugs who often forget that there is a smartphone attached to their camera.
CornerTube
Price: $1.99
With iOS 9, Apple brought split screen and picture-in-picture video to the iPad Air 2. That's awesome and all, but one of the most viewed video-streaming service doesn't really support that out of the box. We are, of course, talking about the YouTube app.
CornerTube is one of many solutions for this problem. Much like the name suggests, this app will let you stick a YouTube clip in the corner of your iPad's screen, so you can have it running while doing various other tasks. Supports iPad mini 2 / iPad Air and above, as long as they are running iOS 9.
Music Memos
Price: free
Last week, Apple brought a
major update to Garage Band
. Together with it, the company also released Music Memos. A very simplistic, yet helpful app for musicians to be able to quickly record a musical idea before it's gone from their heads forever. The app uses the device's microphone to record whatever you are playing, then analyzes the chords and rhythmic patterns to automatically add some drums and bass to the idea. Everything in this app is so one-tap, set-and-forget that musicians literally have no excuse for not jotting down their ideas.
Mesh
Price: free
If you are planning to go out and about with a group of your friends and you'd love to mingle with another group of like-minded individuals, Mesh will help you. The app shows you other parties in your area, which are out for similar to your activities. All you need is to do is match up Tinder-style and meet up for some fun times.
New for iOS and Android
AreYouIn
Price: free
This is an app that helps you quickly organize group outings, parties, and private events. Basically, you just type out the event type and send an invitation to your friends of choice. They get the event, with a simple yes or no question attached to it – "Are you in?".
AreYouIn
Dartboard
Price: free
Short voice messages over chat apps have slowly been gaining popularity recently. Call it lazyness, call it convenience – in a lot of cases, it's much simpler to tap and hold the screen and send off a message, especially if you know that the recipient is currently in a quiet environment, or wearing headphones. Dartboard is sort of like Snapchat for audio messages – you send them off and once the other party listens to them, they are gone forever.
New for Android
Defumblr Smart Lock Screen
Price: free
This is a pretty cool lock screen, which learns from your smartphone usage and gives you quick shortcuts to the apps you are most likely going to open. It's arranged in a handy "bubbles" format, and you are allowed to customize some of the bubbles so they don't auto-change, but stay fixed as shortcuts to specific apps and features. Pretty cool!
Defumblr
Wildcard
Price: free
Wildcard has been out for iOS for quite a while now and finally makes the jump to Android. It's a news aggregator-type app that feeds you headlines in the form of cards. In time, the app should learn your interests and give you more and more stories that are in tune with your interests. Check it out if you've been looking for a Flipboard alternative.
Kickstarter
Price: free
If you love browsing Kickstarter projects, occasionally backing the odd genious idea – you'll be happy to know that you can do so from your Android device now. The indie project backing service has had an iOS app for a couple of months now, and it has made the natural jump to Android this last week.
Stop swipin!
Price: free
Ahh, handing your phone to somebody to show them a picture only to have them start swiping through your gallery. Isn't that one of the cringiest moments? Stop swipin! is one of the many apps that is here to help. Basically, you choose the pictures you actually want to show your friend and the app will create a separate gallery for them. Then, you are free to hand them your phone and not worry that they may stumble on that embarrassing selfie that you still haven't deleted for some reason.
Wear Store for Wear Apps
Price: free
The portfolio of Android Wear apps has slowly grown to... well, insanely big – over 40k. Wear Store will try to make order out of this chaos by arranging them in various categories, and making them more easily findable. Whew!