Best new Android and iPhone apps (December 22nd – December 28th)
1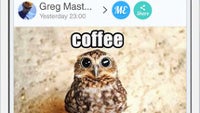 Well, well – Christmas week has just passed, but the app stores never sleep! There is a bunch of new apps already out on both the App Store and the Play Store, and we looked through a good chunk of them to find some of the most interesting offerings this week. If you didn't know – that's what we do every 7 days – we comb through the stores and pick some of the more eye-catching apps that are out there, so you don't have to.
This week around, we have a very cool GIF message creator, a rich VR travel experience, and an app to log your life events – you know, no big deal. Check them out, let us know which ones you kept, and if there's a new app that you think should be in here, but we missed – do speak up!
New for Android
Ascape Virtual Travel & Tours
Price: free
Ascape has a rich library of beautiful 360-degree panoramas of various spots in the world. You can view the content without a VR headset, but let's be real – the goggles is where the fun is at! The app and all its content are currently free, so that's cool!
Chromer
Price: free (IAPs)
So, you love using Chrome because all your passwords and quick-fill settings are synced to Google's cloud, and every website log-in is just a tap away, yes? That's why it's sometimes annoying when some web links open inside the app that you tapped them in – like Facebook, or certain chat apps. These in-app browsers use a very basic WebView browser, which is barely as cool as Chrome. So, long story short – with Chromer, you can remedy this, and have a Chrome tab open inside any app on your smartphone, instead of the skimmed-down WebView window. Add that to the cool experience-enhancing apps!
New on both Android and iOS
Shizup
Price: free
Shizup has been around for a while, but you may have missed it thus far. Well, the app has recently been updated and is looking to take another stab at mainstream. It's a meme generator for personalized messages, but – get this – it lets you send the messages via SMS, not a proprietary chat app. Well, the text will actually be a web link to the image, but hey – at least you don't have to be certain your recipient has the app! Shizup also has a social element, where you can follow the stream of all your friends' custom-made memes.
New for iOS
D.W.I.
Price: $0.99
While on the topic of memes, are you familiar with "Deal with it"? You know – that meme where you have a pair of pixelized sunglasses go over the face of our protagonist, followed by the letters "Deal with it". Well, this app will let you do exactly that to your photos.
Lifebook
Price: free
Lifebook aims to be a life logger for you and anyone you care about. You can have photos, places, and events tagged within the app, ready to be called up at any point in the distant future. Sort of like a diary of the digital age. Yeah, Facebook kind of already has all of that information about you, doesn't it? Well, here's another app you can pour it into! At least Lifebook gives you the option of keeping all of the info to yourself.