Best new Android and iOS apps (March 2nd - 9th)
1
Well, app lovers, another week rolls by and another mountain of apps rolls over the App and Play stores – that's the way the cookie crumbles in the world of mobile devices. As we normally do every week now, we combed through all the new offerings, looking for anything interesting that may catch our eye and be interesting to you. So, we came up with a humble number of apps for both iOS and Android.
So take a quick look, let us know which ones grabbed your interest. Or, if you happened to come across an awesome app last week, which we happened to miss – do let us know in the comments! So, without further ado, let's go ahead and check them out!
New for iOS
Photobucket Express Photo Books
Photobucket is one of the older photo storing and sharing services out there. Back in the day, before everything was auto-uploading and auto-awesoming itself, the PB site was a pretty popular one. The service is still ongoing today, and the company has created some apps and functions to try and keep itself relevant, including some Instagram-ish filters and options. This new app will allow users to pick out pictures right on their phones, select an album theme, order the whole bunch to be printed, and pick it up from a Walgreens store near them.
Videolab-video editor
A free video editor, which has length markers for Vine and Instagram edits and allows users to add in text, pictures, and gifs in their clips. If you wish to try adding some flair to your clips right from your phone, without paying for a video editing app, give this one a whirl.
NoLocation - Easily remove EXIF data from your photos
Does it irk you that every picture you take with your smartphone stores information such as the camera you used, your settings, and most importantly – the location it was taken? Yeah, well, you are most definitely not the only one. This is called EXIF data and the app we have here is an EXIF data remover tool. Guessed what it's for already? Well, if you are hell-bent on keeping that bit of your privacy, you'd probably be happy to fork out $1 for NoLocation.
First Exposure - Photographer's Long Exposure Calculator
Taking photos with long exposures is a cool, cool thing – you can achieve lots of dreamy images, or present motion withing the image in a unique way. However, it's often a trial-and-error thing, until you get your setting to comply for a specific scene. Well, Exposure Calculator is here to help by giving you some solid guidelines to follow – this should speed up a photographer's guesswork!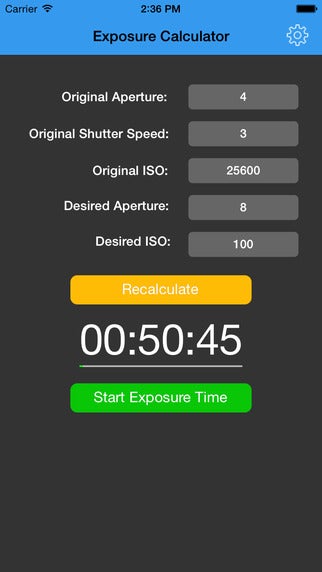 First Exposure - Photographer's Long Exposure Calculator
New for Android
Google PDF Viewer
PDF viewing tools for Android are widely available, sure, but you know that the ones made by Google will have a special tone of simplicity and reliability attached to them. The Drive app has had PDF viewing capabilities for a while now, however, for instances where it is not applicable, or preferable, Google has split the same functions to a standalone app. As for functions – it allows for reading, copying of text, and printing of PDF files.
Appeer
Appeer is made for app fanatics who love discovering new offerings relevant to their interests. The service will scan through your app history and start offering potential matches. It will also hook up to users with similar preferences to your own and keep in mind what they themselves are downloading. The service is still a bit young to be extremely accurate, of course, but we see that it has been created with care, and we are hopeful for this one. Plus, it's free, so if you end up not liking it – no harm, no faul.
Edge Color Notifications
This one came out as soon as the
Galaxy S6 edge
was announced by Samsung. Guessed what it's supposed to mimic? That's right, it will put a glow at the very edges of your screen, color-coded for the specific person who is ringing you up. Sure, it will probably not look as cool as it does on a phone that actually has the sides of its display arched, but at least you can get some of that Galaxy S6 edge taste.
OTA Updates

For the custom ROM users out there, this app is here to ease your constant update checking woes. It will check for new versions of your ROM of choice in the background – much like a stock UI's updater would normally do. The developer claims that it has been optimised for Ice Cream Sandwich, Jelly Bean, KitKat, and Lollipop with matching UI themes to suit each API.