Best new Android Widgets (November 2015) #3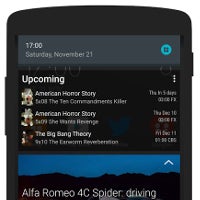 The time has come to show you some of the best widgets that have ventured to the Google Play Store during the past two weeks! As you have probably noticed, we have been running this bi-weekly column for some time now. As a result, we have formed a pretty good understanding on how to separate the wheat from the chaff.
Although not every Android user makes full use of them (as it's entirely optional), the home screen widgets that are natively supported by Google's OS are one of its fundamental functionality features.
In general, widgets are "miniature application views that can be embedded in other applications (such as the home screen) and receive periodic updates", and are usually regarded highly by the Android community.
It goes without saying that if you take away Android's widget support, you are essentially stripping it away of one of its defining features. And we don't want to do this, do we? On the contrary, we want to regularly present to you the best and most noteworthy new widgets that get released on the Play Store. As it's rather hard to separate the wheat from the chaff, we do the hard work for you and show you all the new widgets that you should know about once every two weeks.
Thanks to Snap, you can neatly organize all of your widgets - they will appear in your notification drawer, effectively eliminating the clutter you might have on your home screen. What's more, you can access your widgets from any app, which is extremely helpful and neat.
PipTek
If you have already spent hundreds of hours in Fallout 4, this widget will certainly catch your attention. It requires the
UCCW
widget app and provides you with a PipBoy-like informative widget up on your home screen. Do give it a try in case you venture outside the Commonwealth.
Got Zooper Widget Pro? In case you do, you might want to give Futurismo a spin. It's a whole-screen widget for your device that provides you with useful information for your device, as well as local weather info.