Best, most popular custom Android UIs that were inspired by Apple's iOS
36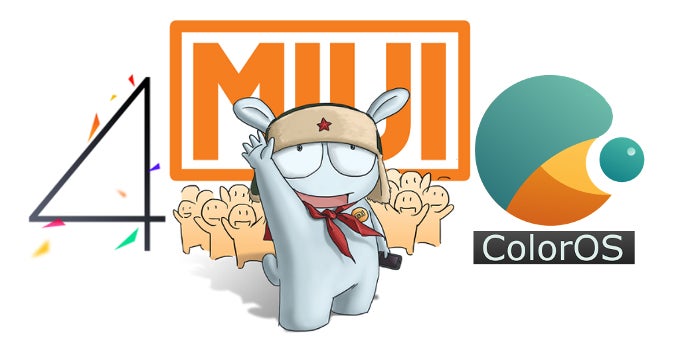 Among the usual traits that we often attribute to iOS are its friendliness and straightforwardness. It's intuitive and easy to use straight out of the box, which is obviously very well accepted by consumers, given that Apple's among the largest smartphone makers out there.
In the meantime, Android - the able-bodied iOS rival, has been evolving in a whole different direction, populating its feature and functionality lists with every major release. As such, Google's mobile OS also has it hordes of loyal enthusiasts.
Today, we'll check out a ton of aftermarket Android UIs that aim to gather the best of both worlds in a single iteration, which comes with the uniformity of iOS. As usual, some have done a better job at this, while others have mostly failed to do so. Let's check them out.


MIUI
Xiaomi's own user interface is in fact the first product that the company came up with back in 2010, predating its first smartphone -- the Xiaomi Mi1 -- by roughly a year. Initially, the MIUI user interface was gracing an eponymous Android ROM that was available for a handful of the more popular Android smartphones at the time. MIUI is among the first custom Android UI that tried to combine the looks of iOS with the feature-rich aspects of Android. Among its most prominent features is the lack of an app drawer, which was quite uncommon for the Android scene at the time of its release. Fast forward a few years ahead and we have MIUI 6, the sixth and most polished iteration of Xiaomi's UI, which is now running on Lollipop. It is quite in line with the current trend of flat designs and clean visuals; it's also light and streamlined - all of these combined create one of the most popular interfaces around. Last, but definitely not least, it's worth mentioning that it's one of the most-frequently updated UIs out there - each and every week the team behind MIUI releases a new update to the UI.
ColorOS
Never heard of ColorOS? Well, if you've ever used an Oppo smartphone (or the Chinese version of the OnePlus One), you've most probably experienced this iOS-like UI. As such, it comes with no app drawer and employs mostly skeuomorphic looks. However, we've often criticized Oppo's ColorOS for being a bit bland and lacking character, but we've still commended for its mostly fluid and lightweight interface, which somewhat makes it up for the cons we listed. ColorOS is not as feature-packed as MIUI, but it still comes with tons of useful features like on-screen gestures and many others. The upcoming iteration of the UI,
ColorOS 2.1.0i
, will finally allow Oppo users to take a lick of Android 5.0 Lollipop, as well as a host of significant improvements and UI refinements.
Vibe UI
Vibe UI is developed by Lenovo, one of the largest smartphone makers in terms of shipped units, and powers its Android smartphones. Certainly, users that are familiar with iOS, MIUI, or any other minimalist user interface solution that comes with no app drawer will pretty much feel at home with Vibe UI.




EMUI
Powering most of Huawei's devices is EMUI (Emotion UI). As you can see in the gallery below, it's endowed with a uniform interface that has certainly gotten a hint or two straight from Apple's iOS. While it's straightforward and, frankly said, pretty beautiful, Emotion UI also offers a higher degree of personalization in tow with the experience because there are various themes to choose from that change the looks of the interface. Generally speaking though, in comparison to the other handful of customized Android experiences out there, this one favors simplicity over functionality. The newest version of Emotion UI has a cleaner look to the interface that manages to shed some of the dull, cartoonish looks of some of its previous versions.
Flyme OS

Although Meizu has been putting custom UIs on most of its Android smartphone, it was in mid-2012 that the company decided to name its software child "Flyme OS". The first version of Flyme was running on top of Android 4.0.3 Ice Cream Sandwich and displayed simple, yet customizable interface. Naturally, as time progressed, Flyme OS evolved even further, scoring numerous handy features. One thing remained the same though - Flyme OS always came with no app drawer and a neatly-organized settings menu. Its latest version, Flyme OS 4.0, is powering Meizu's noteworthy MX4, MX4 Pro, and other phones.






IUNI OS

This relatively new Android distribution really aims to redefine both "ease of use" and "straightforwardness". It won't be too far-fetched to claim that if you put MIUI, Flyme, or any other UI of the type next to IUNI, they'll look a bit cluttered - it's that slimmed-down. The developer even has a dedicated section in its website which states that IUNI OS "rejects all third-party compulsory pre-installations", a fancy way to claim that it does not ship with any bloatware or potentially-unwanted apps.