Best new icon packs for Android (January 2018)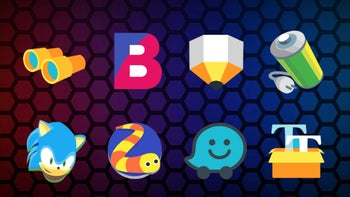 New year, new resolutions, and in our case, new icon packs!
While the vast majority of Android consumers use their devices without customizing these at all, a smaller group of Android enthusiasts can hardly go for more than a week before overhauling the appearance of their homescreens. What can we say, we are guilty of that as well! Thanks to the multitude of icon packs arriving weekly on the Play Store, that's as easy as abc.

This is why we regularly show you the icon packs that have recently made their way to the Play Store and deserve your attention. Have in mind that you'd normally need a third-party launcher in order to change your stock icons with some of the beautiful suites right. Note that as a rule of thumb these are usually compatible with all third-party launchers that support icon packs, such as Nova, Apex, etc.
Here follow the best new ones that have made it to the Play Store for the month of January 2018.
Squidro
There are more than 500 icons bundled in this icon pack, with all of them conforming to the same rather cool Material Desigh aesthetic. Yes, you'd be correct to quickly shoot it as yet another run-of-the-mill Material Design icon pack that doesn't stand out with anything remotely interesting, at a second glance you are likely to start cherishing its looks.
Clean and simplistic, Moonlight calls back to some of the most popular icon packs for Android, like Pineapple and Moonshine. Slightly blurry and dreamy, it really is a beaut'.
X Back
Playful, vibrant, and easy to the eyes, X Back is not an icon pack for everyone. Such icon packs don't fly away with people that already have an established style, but could easily become the next favorite thing of many an Android user that are just now starting to theme their devices with Nova Launcher.
It's hard to look into all the new icon packs that arrive on a weekly basis and not stumble upon at least one flat and stylish icon pack, which is exactly what Rumber is. The 1,150 icons on deck should keep your customization desires satiated for a while.
Android Oreo is still present on less than 1% of all Android devices, but as usual, it's the software everyone with an Android device is striving for. While this icon pack won't be of much help, it will still offer a pleasing visual refreshment for your phone's homescreen.
With beautiful pantone gradients that boast hard, 80s-like transitions, Cavion is an interesting icon pack that got our attention. We feel that you might secretly fall in love with it, too.
Glimpse is one of the more intriguing new icon packs we've stumbled upon. The squareish icons feature a general outline of the app against a colorful blurred screenshot of it as a background, which is a stylish approach at that icon business. We love it!
Cutout aims to minimalize app icons as much as possible and the resulting clean look got our attention. Granted, there are merely 250 icons on deck, but we have optimistic hopes for this icon pack granted that it gradually gets updated with more and more apps.