Best iPhone notification center widgets to boost productivity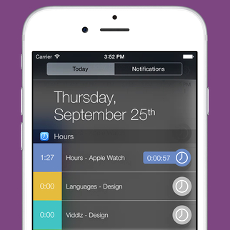 With Apple's new
3D Touch
tech, there is less use for handy Notification Center shortcuts and widgets, as the pressure-sensitive display allows for contextual menu options to pop up after a hard-press on certain app icons. Still, the notification bar above remains an indispensable place for a quick lookup of pertinent ticker info, calendar entries, or storing action-packed shortcuts by the boatload, all without the need to go in and out of apps all the time.
Ever since the Notification Center widgets were introduced by Apple with iOS 8 last year, the initial barren list of weather or stock tickers, has mushroomed to hundreds of apps that come accompanied by their widgets that can be placed there, and provide quick access to their most used functions, or most popular content.
That's the power of 3rd party app development, and nobody knows how important it is better than Apple, that is why it has provided the widget tools to app developers, and they've come up with some impressive designs, as you can see in the productivity widget list we've compiled for you below. What else are you using to boost your productivity, straight from your iPhone's Notification Center?
There is no shortage of good calendar apps for iOS, but Fantastical 2's Today widget stands out as one of the prettiest and most functional such additions to your Notification Center in the App Store. Besides a calendar overview, you get event reminders there, and can change entries directly in the Notification Center itself.
Calling your favorites, FaceTime-ing them, and even WhatsApp-ing them - that's all made possible by the humble Favorite Contacts Launcher here, straight from the Notification Center. The one-tap WhatsApp access function is especially useful, and what sets this widget apart.
Evernote needs no introduction, and, lo and behold, so doesn't its Notification Center widget. Drop a quick note, see your to-do list, take a pic, set a reminder, or mix and match any of Evernote's productivity functions to appear as a shortcut there for quick access.
24me serves as an aggregator for all your productivity and scheduling tools - it tries and mostly succeeds to integrate your calendar, tasks and to-do lists, note apps and social accounts in one place, with an emphasis placed on a widget to access it all in a hurry. After syncing the selected accounts, 24me can even tip you on bill payments due, friends and family events, financial milestones, and plenty more, and you can even create macros to respond to certain alerts.
If you are a STEM student, an engineer, scientist, programmer, or any other field where math and equations are of utmost importance, PCalc is as good as it gets a calculator for all your simple or sophisticated mathematical needs - with a Notification Center widget for quick access, too. You also get unit conversions and constants, a paper tape, scientific notations, plus support for hexadecimal and binary calculations.
With Launcher with Notification Center Widget, you can place any app or favorite contact shortcut in the widget, mix, match, and rearrange them to your heart's desire - sounds simple, but is in fact very, very useful for an out-of-sight quick access of anything you like on your phone.
Hours is one of the handier time trackers around, and its color-coded agenda with reminders has found a place in the Notification Center as a widget. You can start, stop and edit time track reminders directly from there, use a visual timeline to identify any overlaps, and add quick notes to your time trackers.