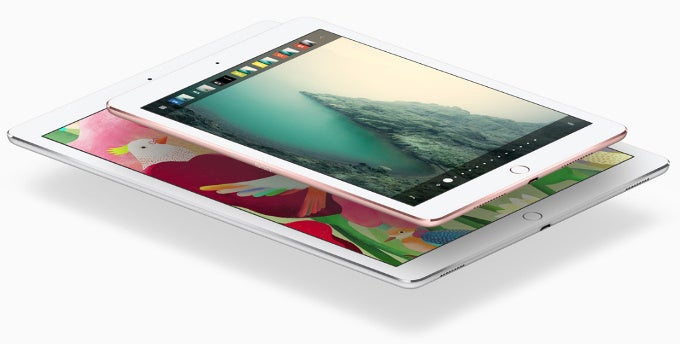 With the new generation of iPad, now with the Pro added to its name and awesome pressure sensitivity and
Apple Pencil
, there are more and more things that you can do on your Apple tablet.
It's time to get back to the basics and see what are the best, the essential apps that you should get and try on your new (or slightly dusty) iPad. We look at apps from different categories and since there are so many great apps, we're only scratching the surface. Yet we have been careful to include the great apps, and not the good ones. 'Good' does not cut it here. With this in mind, take a look at the best iPad apps you can get in 2016 right below and feel free to share your favorites in the comments section.
Yahoo Weather is a clean and ad-free weather app that shows you beautiful local images as the background for a weather forecast with no unnecessary fluff. It's well adapted to the iPad as well, with a beautifully detailed forecast, chances for precipitation, a map of the clouds, temperature and pressure, as well as a few other tid-bits of information. Being a free and beautifully designed app that gives you sense of place with those large and beautiful local images, it's easily a great and more functional replacement for the stock weather application.
If the regular amount of weather stats just does not cut it for you and you won't every single piece of information from a hyper-local weather station, take a look at Wunderstation. Not only is it a free app, it's also a beautifully well-made one: with nine different sections that you can tap on to explore in crazy detail, you will get to select various meteo stations to learn about the weather from various sources and the option to choose the weather station closest to your own place could make all the difference in large metro areas.
Mail and Calendar apps
AirMail is a contemporary mail experience designed to the iOS 9 platform with support for 3D Touch. It stands out with its wealth of sharing and email editing options that make it easy to deal with attachments and various files. We are particularly fond of the easy to see button that allows you to unsubscribe from annoying subscriptions that you may have never actually wanted. It also does a good job of keeping your email organized: it allows you to snooze mail, easily label email and create to dos from mail messages.
Microsoft Outlook for iPad appears after Microsoft bought out the email client Acompli, a former iOS and Android mobile email app. Accompli was at its time among the better email clients available, and it has only evolved in this new form. Outlook for iPad allows you to easily switch between email and the built-in calendar feature, swipe to quickly delete, archive, and schedule messages, as well as send large files that you haven't downloaded on your device. The app is also completely free to use and supports Gmail accounts push notifications that the stock email app can't handle.
Sunrise Calendar integrates well with your Google Calendar and other popular calendar services, it comes with a useful agenda view combined with a calendar, integrates Facebook birthdays and events easily, and adds a nice sprinkle of weather information (morning, noon, and evening info) right in your calendar. With a cute visual style and great performance, Sunrise Calendar is one of the best calendar apps that you can get for the iPad and it's free.


The whole essence of the iPad is to make your experience with media and the web more personal, and Tumblr brings a lot of great media in a well-made app. Well, it does seem to get more and more advertizing as time passes, but we still consider it to be a refuge to catch up on your artsy photo, video and textual obsessions.
Pinterest is another media app that looks great on the large iPad screen. Those pins come to life on your pinboard as you can see much more of what you've pinned when compared to using the app on your phone. Fast and well-built, Pinterest is a great platform to discover new images, but also shop via the app for some extravagant new items.
The iPad is the perfect tool for looking at photographs: it's got a brilliant, well-balanced display with outstanding colors and watching images on it is a joy. You can easily rotate and zoom images to have that truly personal contact with those photographs. There are two great services for photographs that we use on a nearly daily basis: Flickr and 500px. Both have their own ups and downs, but as a whole, both are great and it's about the community and the people that you follow that should tell you which of the two (or whether to use both) you should use.
Drawing and Creative
If you want to jump up a level to something closer to pro-grade applications, we recommend looking at Procreate. At $6, this app is not cheap, but given what it offers, it really is not asking too much. Be it for sketches, paintings or illustrations, Procreate gives you the tools: optimized for the new iPad Pro, coming with high-resolution canvases, with 64-bit color, continuous auto-save, featuring 128 brushes, a textured brush system, 35 customizable settings for every brush and the option to even create your own brushes.
While Pixelmator for iPad misses most of the great feature from the Mac version of the application, it's still a very powerful image editor / drawing app at just $5. It gives you some super powers: with full iPad Pro support (including tilt support for the new Apple Pencil) it has multiple various paint brushes, cool distort features, and allows you to apply quickly and easily multiple effects on images.
A modern coloring app, Pigment is a fun little app that you will enjoy to meditate over coloring some interesting shapes and sketches that come pre-loaded with the app. It features 8 different kinds of pencils, markers and brushes, an unlimited amount of colors to choose from.
Photography
Enlight is an extremely powerful and well-designed application that not only gives you some powers that you previously had commonly only on stationary computers, but will have you editing your image with joy with its interface. Blend images to create crazy dual exposure shots, apply cool effects and customize images with easy with Enlight. Along with filters, there are also tone curves, custom presets, and you can easily convert your images giving them painterly effects or turn them into street art. You can also draw, write, or doodle directly on your image, you have access to decals and special effects via add-ons.
When it comes to film emulation, there is one app that you should get: VSCO. The makers of the popular Lightroom filters that bring the colors of analog film to digital photography, VSCO's contsantly refreshed mobile app is an absolute gem on the iPad. With quick preview of the available filters, you can quickly make adjustments to images and convert them to that sweet retro look. It comes with a great selection of filters, but you can always get additional ones via the app's store (some filter packs are as cheap as a $1, while the largest collection currently runs for $9). Along with filters, you have some basic image editing options here as well: things like crops, sharpening, saturation and so on can easily be edited from within the app as well. Keep in mind that VSCO also doubles as a camera replacement that you can use.
Ever since Snapseed was acquired by Google, it has only grown to become better. With spot selection and its great capability to control and correct parts of an image rather than the whole image, Snapseed is one of the best image editors available for iPad. Keep in mind that it's also completely free (no ads either): we commonly use it to add a bit of a bokeh-like depth to images with its neat blur tool, but it has great filters and editing options to be on par with Enlight for most image editing tasks.
Here's a less advanced app, but one that we found fun and captivating: Cinemagraph Pro allows you to freeze a part of an image, while animating another part, resulting in a so-called Cinemagraph. If you follow the industry, you might remember that Nokia used to advertize and include this in its stock camera app for many Nokia phones of the not so distant past.
Videography
While video editing on Android is a rather sad affair with most apps not supporting 4K video and many of the ones that do have clumsy and cumbersome interface, on iOS video editing is an absolute joy with the absolutely free iMovie. A joy to use with its effect and quick and reliable performance, iMovie is an absolute gem. You can trim and arrange your clips, mix them with music and images, and export full, beautiful 4K video.
Quik (formerly Replay) is another great iOS video editing app that automatically creates video clips that are beautifully matched to the music (a process that is quite the time-killer even in more advanced video editing applications). Quik also offers many of the basic video editing options that iMovie has and it features a rather useful interface. Great news for video producers on the go.
Reading and Writing
The Amazon Kindle app is not the best reading app as theoretically there are apps with more advanced reading options, but none have the capability to sync your books, give you easy access to buy new literature and overall provide the syncing options across devices to always stay up-to-date with your reading progress. It's the full package and it's - of course - free, and it looks great on the large iPad screen.
In case you need a second app for your PDFs or other book files that for some reason cannot be processed and opened via the Amazon Kindle app, the GoodReader application has got your back. It is the go-to app for those who like to import books in extravagant formats to their iPad and still have them open and perfectly usable, and the app also does a good job opening even large PDFs.
There is reading and then there are news. When it comes to news, Feedly seems to have taken over the role of the king that Google Reader once was. Fast and reliable, the news aggregator is easy to use and allows you to catch up with the news really quick. It allows you to save your favorite articles for later reading, as well as select various ways to display news - a more dense view where you can see more headlines, or a more image-oriented view with a slight preview of the content. Either way, this is one of the best news reader apps for the iPad.
When it comes to notes and writing tools, there is really no shortage on the App Store. While there are the more complex ones, and then there are the simpler ones that allow you to focus, we just love using Google Keep: a simple app, it has replaced Evernote that we once used, and does so with its clean and fast interface, and extremely convenient color system, so you can have notes of one color for certain tasks, and other color for other tasks. It syncs effortlessly across all of your devices and Google accounts, and you can handily access it from a desktop browser for more serious writing.
Finally, in the large Utilities category we have included two apps that we consider quite essential: Scanner Pro is the first one, and it is a great first stop to scan and keep your most important bills and checks. You can take the scanned copies and store them online, for instance, but for whatever reason, we seem to find use for Scanner Pro even in these current days less and less dependent on paper.
Documents 5 is the closest you'd get to a file manager on the closed iOS ecosystem. With a familiar, intuitive and simple interface, it allows you to browse local files in directories with ease.
Finally, since there is no open access to the file system of iOS, we recommend using a cloud file manager like Google Drive. With plentiful online storage for free (and even more available for a monthly fee), Google Drive is not only fast - it's convenient. Powered by the almighty Google search algorithms, you can search drive for documents not just using their name, but also by their contents, dates, or other, even smarter criteria.
Pop Science and Learning
While the science and learning category for iPad is a vast one, some great apps can be picked: the first one is Space by Thix, an exploration of the cosmis realm around us in a beautiful and immersive visual style. Space allows you to build asteroids, nebula, comets, planets, moons, stars, pulsars and even blackholes; experiment with gravity, supernova, planetary collision and so forth. You can even zoom in to ride the comet, or zoom out to gaze at a galaxy of stars made by all users.
An app that lets you play around safely with chemicals, Chemist by Thix has you testing various lab equipment, procedures, and chemicals with complete freedom - no need to buy chemicals or clean up afterwards. Perfect for testing, exploring, learning, or just playing around.
DuoLingo has become the de facto standard of mobile language learning and for a good reason: it features a simple interface that lets you focus on all four aspects of learning a language and not just one or two: you get to focus on improving your reading, writing, listening comprehension and speaking skills with support for various languages. The app stores your progress, so you can keep on learning from various other devices and it can even judge your level and have you started from further levels when it detects that you already have some knowledge of a particular foreign language.
Last, but not least comes Khan Academy: a great initiative started by educator and father Salman Khan, this app has all the material that you go through in high school and you can watch it and learn it via a unique system that requires to master stuff before advancing. This way you know that you have really learned and cemented your knowledge in a certain area. From maths to physics to the arts, Khan Academy is a free app that covers a wide range of educational topics.