Best gimbal and steadicam stabilizers (for iPhone and Samsung Galaxy)
2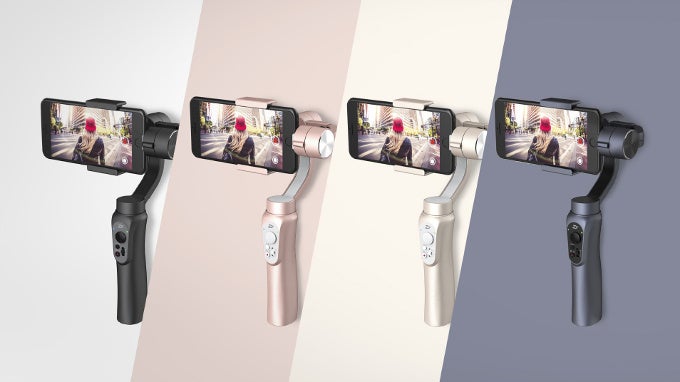 What is the best stabilizing gimbal or a steadicam system for your phone?
If you are an enthusiast video maker using your phone, you surely must have asked yourself this question. After all the combination of optical and electronic image stabilization on modern smartphones is good, but it is not ideal, especially if you want to film action, running, sports.
Luckily, you do have options. You can pick between an automated stabilizing gimbal or a steadicam, semi-auto system. There are three big names around: two gimbals and one steadicam system that have won nearly universal praise and that are easily available in Best Buy and other popular retailers in the United States and across the globe. We look at each of them in detail and list all their pros and cons. Read on.
Note:

These stabilizers and gimbals will work with Apple's iPhone and iPhone Plus series, as well as with all sorts of Android phones: from the Samsung Galaxy S8, S8+ and Note 8, the Google Pixels and others of different make and size.
DJI Osmo Mobile
Price: $300
It's no surprise that the most expensive solution is the best one. The DJI Osmo Mobile was released back in August 2016, but it still is unmatched in terms of the quality of stabilization it brings to smartphone videos. At a starting price of $300 (Best Buy runs a promo with two batteries included at the time of this writing), the DJI Osmo Mobile provides the premium build quality and the best object tracking available out there.
The Osmo Mobile features convenient automated controls: a joystick allows you to easily move your phone in different directions, it has a smooth zoom and you can have it follow the movement of your hand or lock it in a position.
Pros
Best video stabilization quality
Fast and accurate object tracking
Responsive controls
Durable magnesium build, rubberized grip
Smooth zooming movement
Cons
High price
Battery life of only 4.5 hours
Requires DJI app to properly work on phones with OIS
No full 360-degree movement, limited vertical movement
Zhiyun Smooth-Q
Price: $126
The Zhiyun Smooth-Q is your best affordable option: at an original price of $140 (discounted to $126 at the time of this writing), the Smooth-Q looks and performs very similarly to the DJI Osmo Mobile. Still, it is not quite on par, as video stabilization on it is not as smooth and is just a bit jerkier. The Smooth Q is also made of plastic, and does not have the quality and grip that your get with the Osmo Mobile, and it only has movement tracking, but no true object tracking (plus, it''s much slower). It's big advantage, though, is battery life: at a full 12-hours it is a beast, and it even ships with a USB port where you can plug devices like your phone and use the Smooth Q as an external battery pack.
Pros
Very good (but not as good as DJI) stabilization quality
Awesome low price
Amazing 12-hour battery life
Doubles as an external battery pack (5V, 2A)
Can be rotated in full 360 degrees
Easy one-click self-shooting mode for vlogging
Cons
Built out of plastic
Only has motion tracking (no object tracking) and it is a bit slow
Zooming happens in jerky intervals
Steadicam Volt
Price: $200
The new-comer, Kickstarter darling and your third-best option is not a fully automatic gimbal stabilizing rig, but instead it's a steadicam system. The Steadicam Volt comes at a rather salty price of $200 (salty for what it is), and the initial calibration process takes time and some skill. And you need to precisely position your smartphone to get that proper stabilization, so there is a bit of adjustment with the Steadicam Volt every time you shoot a video on your phone.
The Volt offers great quality of the stabilization when it works, though, and it has a simple mechanical construction and still solid 8 hours of battery life. However, it usually requires both of your hand to operate it, there are not automatic controls, and it simply won't work well in windy weather.
Pros
Excellent stabilization
Simple mechanical construction
Does not require special apps to work
Cons
Setup and calibration is difficult and takes time, you need to perform it every time you shoot a video
No joystick or other automated movement controls
Requires two hands for proper stabilization
Hard to use in windy weather
High price for what it is
Counterweights are tiny and you could easily lose them
Battery life of 8 hours is less than you'd expect from a steadicam system