Best, funniest and weirdest of Damn You Autocorrect texting fails so far in 2016
14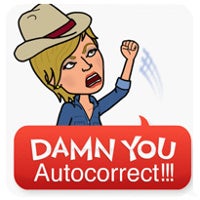 Sometimes our modern-day smartphones - despite their super powerful processors, advanced interfaces and tons of apps - they just go... a little bit crazy.
Especially when faced with the challenging task of swipe auto-correct or voice dictation.
It is our human nature to be unpredictable and we're good at it.
Sometimes smartphones are... not that smart
So when you don't have the time to double check and proofread your texts, funny things happen. Here are 30 of the funniest and weirdest auto-corrects from 2016 that got sent by mistake. And yes, sometimes the reaction to them is even funnier.
Which one is your favorite?