Best free Android and iOS apps for a healthy lifestyle
3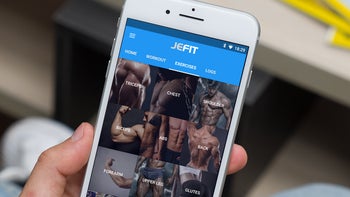 We live in such a busy world that it's kind of hard to keep an eye on every aspect of our lives. We have to give our best at work, take care of our families, socialize, and so much more that we may forget to take care... of ourselves.
Luckily, we all have one game changer at our disposal and that is our smartphone. That's why we've decided to give you a couple of suggestions for health-improving apps, which you can install and use immediately. No, the apps won't miraculously improve your health. You'll need to put some effort to, but they will help you immensely.
My Water Balance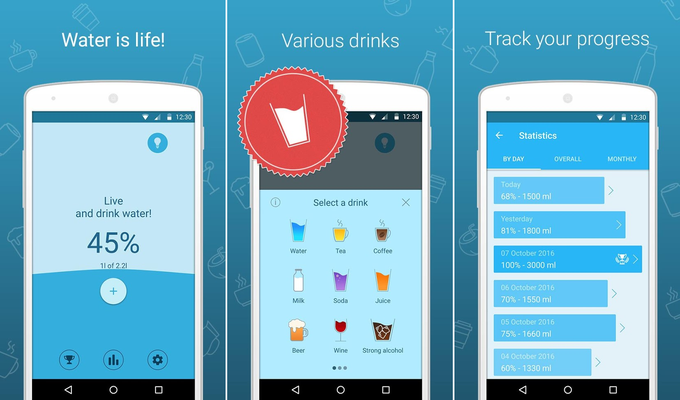 Did you know that your body contains around 60% water? Yeah, that's three-fifths of you, which means you're an amphibian! Jokes aside, drinking enough water is one of the easiest things to do to improve your health, as it will improve your memory and focus, and will also make you look even better. However, drinking enough water is also one of the easiest things to forget and this is where My Water Balance wants to help – it reminds you to drink water.
Upon initially launching the app, you'll be asked to input your physical info, such as weight, height, and whether you exercise or not. The app will then calculate how much water you need on a daily basis and will send you reminders throughout the day to drink a cup or two of the life-injecting liquid. Now, excuse me, but it's time for a glass of H2O.
PhoneArena health tip #1:
You can get easily dehydrated when you drink alcohol. To avoid that, have a cup of water or juice after each drink. It also prevents hangovers.
Strava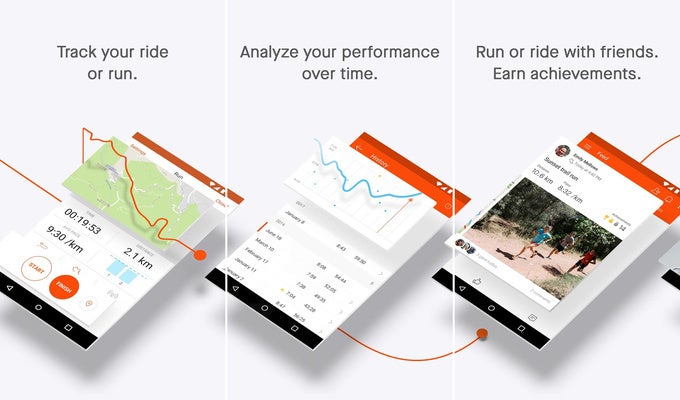 This is the ultimate social network for athletes. It doesn't matter if you're a beginner or intermediate runner, or you have already won a couple of marathons – Strava is your place.
After you launch the app for the first time, you'll be prompted to set up your profile, add a picture – as you would in any other social media – and you're good to go. You can then record your cycling or running sessions and share them on your profile page, quite similar to how you post stuff on Facebook or Instagram. You also have the option to like and comment other people's runs, which adds up to the social aspect of the app. Strava can also record your runs, including average speed, total distance, and route if you pair it up with an external peripheral, the
Apple Watch
for example.
Go now, have your first Strava-powered run and don't forget to post your results.
PhoneArena health tip #2:
Start every run with 10 minutes of walking or running slowly. This will warm up your muscles, preparing them for what's coming next.
Sleep Better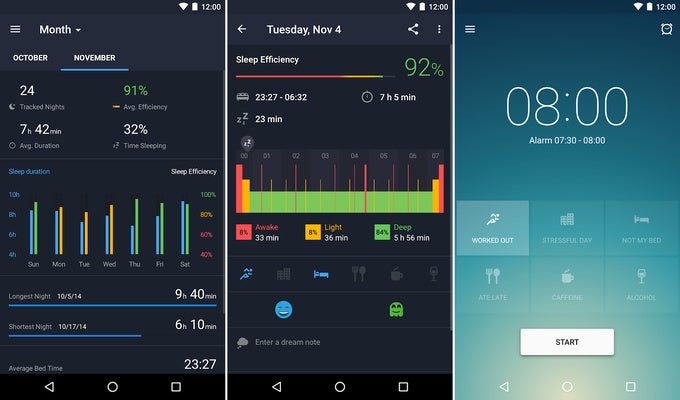 A good sleep can have wonderful results. Aside from feeling well-rested, you'll also think faster, move gracefully, and jump around in joy. Okay, we might've lied about the last one, but still, the benefits coming out of a good sleep are incredible. If you want to one-up your sleeping game, Sleep Better is the perfect app for you. It's essentially a sleep diary that can also track your sleeping phases.
So, how does it work? Sleep Better can do a couple of things. First, it serves as an adaptive alarm clock. You enter how many hours you want to sleep for(pro tip - aim for at least 8) and then check some boxes according to what you've done during the day. For example, if you had too much caffeine, tick the "Caffeine" box; if you exercised, then tick the "Worked out" box, and so on. The app will then tell you how much you need to sleep to be properly rested on the next day. Also, when you go to bed, make sure you connect your phone to the charger and leave it next to your pillow and Sleep Better will track your sleeping activity, presenting you a diagram in the morning.
PhoneArena health tip #3:
To sleep better, avoid looking at screens (TVs, smartphones, etc) 30 minutes prior to going to bed; you'll fall asleep easier.
JeFit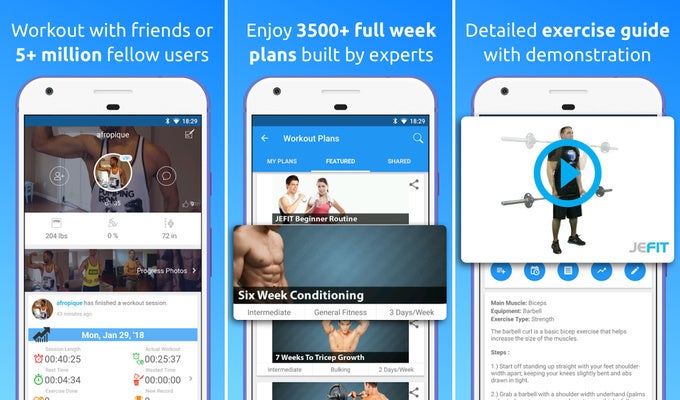 Recently I talked to a friend of mine and tried to convince him to hit the gym up with me as he was incredibly out-of-shape. He refused, saying he didn't know how to do the exercises properly and he would look like an idiot. Then I showed him JeFit. My friend is now going to the gym on a daily basis.
JeFit is the ultimate fitness companion, regardless if you're just like my friend, who refused to hit the gym because he didn't know what to do, or you're an IFBB athlete. The first time you'll enter the app, you'll create a profile including your sex, age, height, and weight. Then you get to choose a workout routine, watch videos of various exercises, log your muscle data, and even upload progress pics so you can track what you're working towards.
PhoneArena health tip #4:
Wait at least 90 minutes after you've had your last meal before going to the gym. This will allow your stomach to digest the food and give you the energy needed for your best workout ever!
Elevate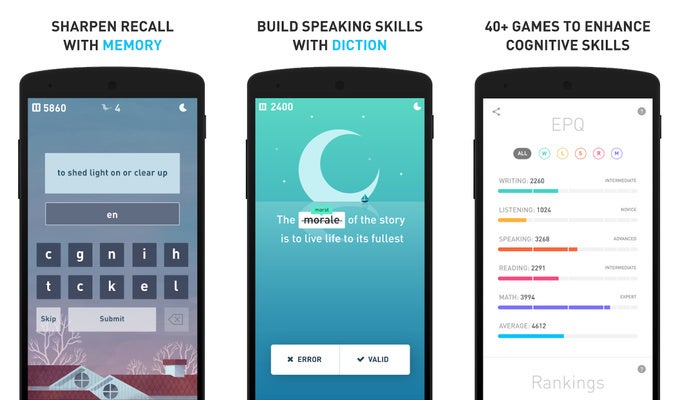 While taking care. That means we should train our brain as we train our bodies and Elevate is the perfect app to do just that.
Elevate is a free app where you improve your brain activity by playing various mini-games. Upon initially launching the app, you'll be asked a couple of questions that will determine which skill you need to improve the most – reading, speaking, listening, writing, or math(ing). Then, based on your answers, you'll have to complete a set of mini-games on a daily basis – 3 if you are a free user, or 5 if you decide to pay – which will level-up your skills. Leveling up leads to better stats and more mini-games. A nice app to keep your brain in shape.
PhoneArena health tip #5:
Do your brain workouts in the morning, when you get up, or in the evening, just before going to bed for maximum efficiency.
All listed apps are free to download, but also have in-app purchases to enhance your experience.