Best fast food apps: get your burger (or tacos, or whatever) on
2

A smartphone can be
your portal into the world of fine dining
, connecting you with news about the hottest new restaurants from the most talented chefs, reviews from celebrated industry veterans, and even helping you to secure a coveted reservation. This is not a post about that.
Instead, we're taking a 180 and looking at what a smartphone can do to help you satisfy that greasy, salty, instant-gratification itch that's been wearing you down all morning, saying, "forget that limp salad in the fridge. You want a burger and fries."
Fast-food restaurants have been eager to connect with mobile users, and why not? Their affordable offerings are already a big draw for younger (frequently cash-strapped) diners, and that's one demographic that enjoys some serious smartphone penetration. As a result, it's made sense for these restaurants to invest in their own mobile apps.
But while many have done just that, not all of them are as successful as others. When you're craving a meal, and you turn to your phone for guidance, will these apps successfully connect you with nearby restaurants? Will they properly educate you about all the tasty options that await you?
And since saving money is such a big component to fast-food dining, will these apps help you stretch your food-buying dollar as far as it can go? Maybe even with some exclusive mobile deals?
We can't wait to find out. With no further ado, let's start checking out the apps for some of the biggest fast-food chains around:
McDonald's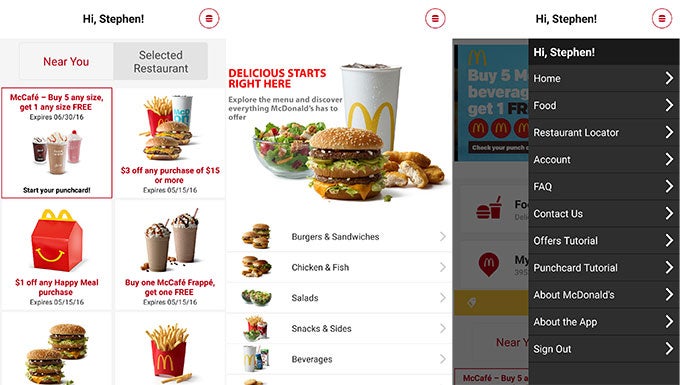 How are we
not
going to start with McDonald's? It may not have outright invented the concept of fast food, but it's sure emerged as the industry's most iconic ambassador. Will the company's app similarly set the standard by which its peers are judged?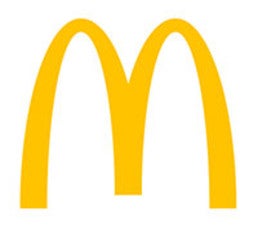 First-time users are greeted by a simple intro highlighting the app's main features: locating McDonald's restaurants, finding deals, and learning about the company's food.
You're then asked to set up a local default restaurant. While this makes a degree of sense, sometimes you don't need a "home base" choice, and just want to find what's nearby – though you're still free to do that. One key missing feature here is that there's no easy way to see restaurant hours.
The food detail view isn't great – in our tests it took unacceptably long to load, and displayed lame stand-in graphics while food pictures downloaded. But maybe the biggest sin is that it doesn't display prices; good luck planning a meal on a budget.
If you want any discounts, you'll need to create an account. After doing so, you can view nearby offers and choose one to redeem, generating a scannable 2D barcode you show to the cashier.
All told, the McDonald's app isn't so hot. The lack of an online-order feature makes it little more than a handheld menu, but the absence of pricing data seriously limits its usefulness even there. And persistent lag doesn't do much to encourage users to browse around and discover new menu items.
Download: (
iOS
|
Android
)
Burger King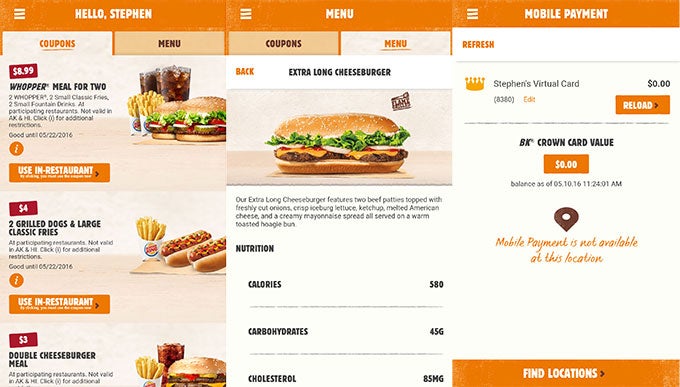 Right from the start, Burger King's app looks a hell of a lot nicer than McDonald's. There's a clear color scheme at work, information is presented densely but cleanly, and navigation is intuitive enough.
Unlike the McDonald's app, Burger King doesn't hide nutrition info behind extra screens you need to tap through, presenting all a food item's information on one convenient page. That said, just like its biggest competitor, BK won't give you pricing info for its food through its app.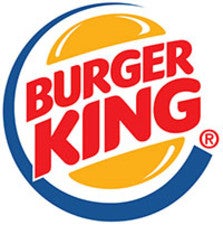 Finding a restaurant works pretty well, with the app clearly marking which locations are currently open – and putting you just one tap away from full details on hours to ensure that they'll still be open when you get there.
Creating an account connects you with coupons for deals, but eating on the cheap could be just a little more convenient. For example, all of Burger King's Value Menu items are buried under their respective categories; there's no way to have the app show you them all in one place, like you'd be able to see were you in an actual restaurant looking at the menu.
While the BK app supports mobile payments, it only does so in-store, lacking any sort of online order option.
In a lot of important ways the BK app is easily superior to the one from McDonald's, but we're still hungry for that perfect fast-food app.
Download: (
iOS
|
Android
)
Wendy's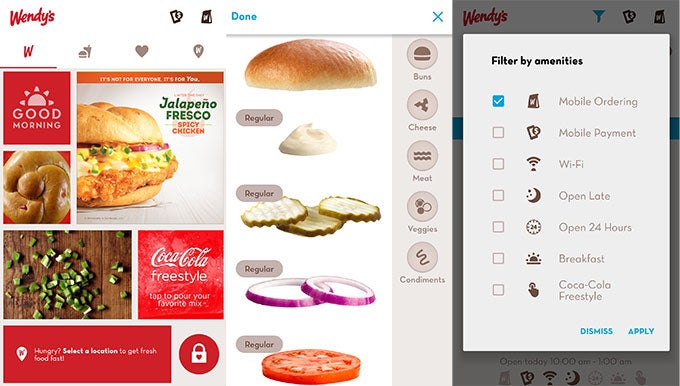 Rounding out the big three of the fast-food burger joints, Wendy's has an app that dumps you straight into the action: no plea to register, no demand to choose a location. It brings your right to the most important stuff – the food – and leaves it up to you to explore further.
Pulling up a food item takes you to a screen that gives you a basic overview, but like McDonald's hides nutrition and other info behind additional taps. One cool feature, at least, is the ability to easily see what toppings are available and to customize your food – but we'll get back to that in a second.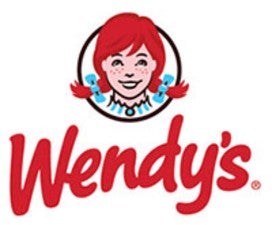 The restaurant-finder tool is pleasantly full-featured, letting you narrow things down based on required amenities. And unlike some of the other apps we've looked at, there's a clearly marked "Right Price Right Size" menu with all of Wendy's value-priced options.
Our biggest issue with the app isn't so much with the program itself as it is with our local Wendy's restaurants. So many of the best features are tied to an online order system: being able to get menu listings customized to particular locations, food customization, and (we presume) being able to see pricing info. But for some reason, restaurants accepting online order seem incredibly hard to come by. We tried doing a location search to find any, and came up blank. Not "the closest option is 50 miles away," but "nope, sorry. Not gonna happen."
That said, there's some clear potential here, but until Wendy's gets its mobile order system better deployed, the app's ultimately of limited use – and feels that way.
Download: (
iOS
|
Android
)
Sonic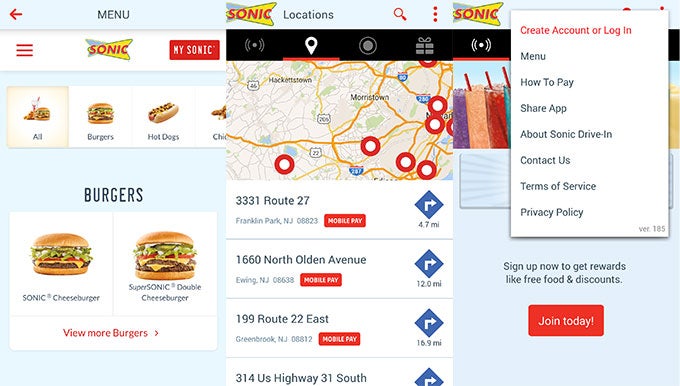 With the big guys out of the way, we're free to check out some other chains, and see if their mobile apps measure up to – or even manage to outshine – the industry's giants.
Sonic's app, like so many others, would like nothing more than for you to create an account the moment you fire it up. Well, who are we to disagree? Apparently just the right person, as even after handing over all required info, the app coughed up an error message when attempting to join.
Luckily, the app still functions in guest mode, though we imagine we're not getting the full experience.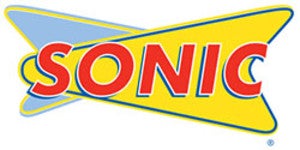 As if that bad luck creating an account wasn't enough, the app's restaurant finder immediately shows some poor interface design: it pops-up a list of locations so long that they block your current location (and any nearby Sonics) on the app's map. There's also no way to see hours.
Getting to the menu screen isn't intuitive at all, but it's buried in there. The structure's a bit different from other apps, with food items appearing in pop-up windows rather than as new panels in the menu view itself, and a tap brings up nutritional info. We couldn't spot any prices to be found, in what's becoming a depressing trend throughout these apps.
In that vein, there was also no obvious way to see value-menu items, and we didn't spot any mobile discounts at all – maybe that might change had we been able to create an account, but the stars weren't aligning.
The app does support mobile payment options, and conveniently shows you locations where you can use the feature (and there appear to be plenty).
Overall, Sonic's app reflects its position in the national fast-food market, and lacks the polish of BK's or even Wendy's app. Some elements even feel like they've been shoehorned in from the restaurant's website.
Download: (
iOS
|
Android
)
White Castle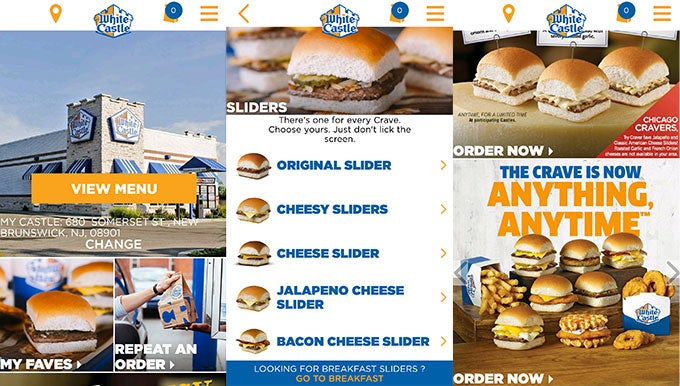 This is easily the smallest of the restaurant chains we're covering today, but it holds a special place in the hearts of many diners (or maybe just this reviewer) lucky enough to live within its operating area.
Restaurant discovery is easy with the help of the app's tools, and while it's no problem to see operating hours, so many White Castles are open 24 hours a day that the feature's almost unnecessary.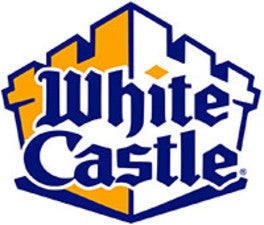 The menu page offers an attractive breakdown of food types, and it's easy to customize your selections with the toppings of your choice. The one big failure here is the lack of per-item nutritional info, and the app instead provides a nearly-unusable-on-mobile giant PDF of the nutritional deets for every single product White Castle sells.
White Castle scores one very big plus with the availability of an actual, functional mobile order system: choose the food you want from the menu view, customize to your tastes, and set your quantities (and White Castle is about, if nothing else, consuming slider after slider after slider).
That said, the feature isn't without its downsides, the biggest being that you don't get to see what anything costs until you add it to your order (and then have to manually navigate to your "sack" to view the in-progress list of items). That's compounded by the ability to choose from add-ons like bacon, eggs, or extra cheese, with the note that "additional charges may apply" - but the app's not forthcoming with what those charges are.
If you're looking for a deal, the app does clue you in to offers like sales on 10-packs or 30-packs of sliders, but those are a little hard to find, mixed in with general product announcements and promotional messages.
For a smaller chain, White Castle's app really delivers. It could use a few tweaks here and there, and make some info much easier to find, but the availability of mobile ordering at all is pretty great – just swing by and pick up your food.
Download: (
iOS
|
Android
)
Taco Bell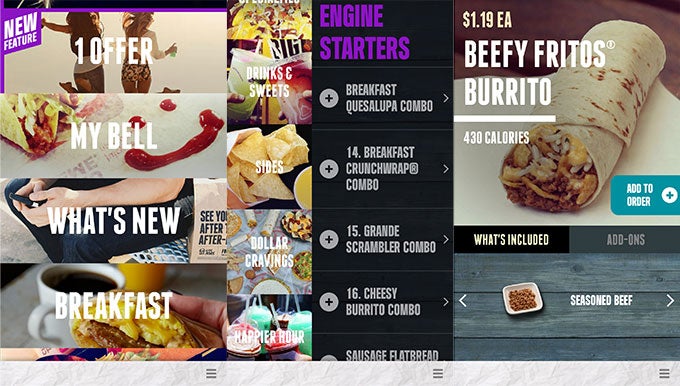 We could keep looking at burger-centric restaurants all day, but let's finish things up by switching gears and heading south of the border with the help of Taco Bell.
Right from the start Taco Bell's app looks a lot different from any of our other contenders. It's heavily graphics-driven, with a modern, smoothly scrolling interface. That extends to sub-menus, with food items broken down into categories that are both individually accessible, and allow users to scroll continuously between them.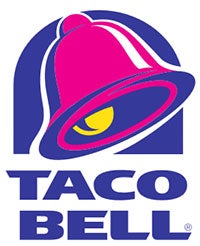 Finding nearby Taco Bell restaurants works just like it should. A clean map view doesn't bog you down with too much text, and you can easily tap on individual restaurants to get all relevant details.
Menu items feature big, attractive photos, and while there's calorie info, more detailed nutritional breakdowns are harder to find. And in a welcome departure from the rest of these apps, food pricing is displayed front and center.
Order customization is easy, and even extra-cost add-ons are clearly explained.
While you won't find tons in the way of special deals, the app does tend to have one offer you can redeem, which rotates on a semi-regular basis. For those eating on a budget, all the restaurant's "dollar cravings" are listed in one easy-to-find place.
Download: (
iOS
|
Android
)

In a landscape so dominated by burgers, who would have thought that the best fast-food app would be for a taco-based restaurant?
We've really enjoyed bringing you this look at some of the biggest and best (and some not-so-best) fast-food apps around. Did we overlook any key features? Neglect to include your favorite restaurant? Let us know in the comments, and we might just see fit to continue this list with a second volume – there are certainly enough restaurants ( and apps) out there.