Own a pooch? Use these apps to help you with everything — from dog training to sitting, boarding, and care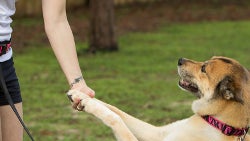 Being a dog owner in today's world is a tough job by itself. Sure, it's great when our canine buddies give us all their love in the form of a tail-wagging furball that's charging at you, but when it comes to teaching some manners, basic obedience, or when you have your hands full at work and can't have Fido walked, it can get overwhelming soon.
Thankfully, we live in the Information Age and every bit of useful knowledge we need is a tap away. Yes, having a smartphone in your pocket can help you with dog training, finding a vet, finding doggie playtime buddies, or even with discovering a nice home where your four-legged friend can live while you are on that business trip.
So, yes, we dug through the app stores and picked out a few of the best apps for dog training and care we found. Check them out below, feel free to drop a comment if you know of another good one!