Best camera apps for black and white photography (Android and iOS)
2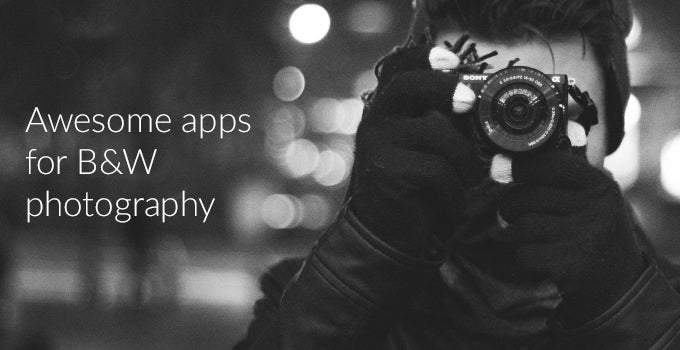 With the advent of the digital camera, the default, universal output for all digital photography was suddenly flipped to "color". And why wouldn't it be? I mean, people only used to shoot black and white back in the film days due to technical limitations, right? Well, yes and no.
Without getting into an exhaustive discussion on the technical and creative status of monochrome photography in modern times, we would like to ask you this: when was the list time (if ever) that you took a picture in B&W from the outset? We don't mean shooting in color and converting afterward, but actually taking the picture in black and white to begin with.
You may be wondering why anyone would do something like that, when you can just have two versions to play around with, and the answer to that would be: because shooting B&W photography requires a different mindset. Taking photos without color forces you to look at the world in a different way, to accentuate different aspects of your shots, to change your typical framing style, and a whole lot more that we won't be getting into (we are not professional photographers, after all.)
With that said, the first time I truly realized how fun it was to shoot black and white from the get-go, was when I got my hands on the Huawei P9 with its excellent second monochrome-only camera. I will include a couple of pictures I took using P9's monochrome mode at the end, just for the sake of motivating you to go out and take some much better ones yourself, using some of the awesome B&W-dedicated camera apps from our list! All these apps have been developed with monochrome photography in mind, and likely feature a lot more options for tinkering with the grayscale than your phone's native camera app.
Let's dive right in!
Lenka
(free)
Lenka is a straight-to-the point camera app for monochrome photography, available on both Android and iOS. What makes Lenka interesting, is the fact that it doesn't offer post processing functionality and uses only the main shooter on your device. Although these might seem as limitations at first glance, they fit perfectly within Lenka's core concept. The idea here is, you see, to shoot in black and white from the get-go. Not to edit old photos, or convert color shots into B&W, or take artsy selfies, just shoot B&W. Dead-simple, really. Still, Lenka offers you some freedom in the form of slider-based controls for controlling brightness, focus, contrast, and even –
gasp
– color tint!
All your snaps are saved to your photo roll and Lenka's in-app gallery. Don't forget though – there is no meddling with your shots afterward!
Hypocam is a great app for black and white photography. From the moment you fire it up, all the way down through to navigating its sleek UI and editing menus, it simply shows dedication. At first glance, Hypocam may seem a bit limited, but actually features some interesting tools to tinker with your photos before and after taking them. For example, you can use a plethora of different presets that will make certain colors pop — as in, be darker or lighter shades of gray — in your shots, which really changes things up. This allows you to accentuate different parts of your photos, and can make them look much, much different from straightforward B&W conversions.

Further, Hypocam features its own feed-style art board, where you can find themed photo collections from different authors to draw inspiration from. There is also an in-app storefront, which features many compilations of effects and presets, tailored for different types of photography.

You can also come back and edit your shots at a later time, which may be considered an advantage.
BlackCam
(free limited version on Android | $1.99 for
Pro version
)
BlackCam is a capture-and-editing-in-one type of app. It is a pretty straightforward package, but offers a plethora of styles and presets to choose from, all of which you can customize to your liking. There's a cool "Vignette" button in BlackCam, that enables vignetting in live view, as well as a "Mix" button that chooses random styles when tapped. BlackCam has a free version available on Android, although most of the filters are not available in it, while the whole package costs $1.99 on both platforms.
Simply B&W
(Free)
Simply B&W is simply a simple app for B&W photography. It is available for free on iOS only, and can act as both a camera replacement and image editor. However, the app doesn't let you adjust any settings while taking your picture, but instead offers you its editing tools after the fact. The editing portion of Simply B&W is not overly involved (as is evident from the app's name), but still offers some neat ways of enhancing your monochrome photos. You can tone your picture using different sliders, add grain to it, take advantage of various presets — as well as save your own custom ones — and play around with the so-called "color filters". Like in Hypocam, these filters allow you to enhance the appearance of different colors in your shot when rendered in B&W. The "IR filter" is particularly cool when shooting landscapes, as it results in dream-like scenes where all the greens are substituted for whites. Check out some of the examples in the gallery below!
Simply B&W can also pull files from your Adobe Cloud, provided you have an account. Weird for such a simple app but we're not complaining either way!
Dramatic B&W
($1.99)
This app can be used as both an editing tool for existing photos, as well as a stand-alone camera app. It features a highly customizable UI, many editing options, as well as a rich assortment of adjustable presets.
Dramatic B&W lets you get into the nitty-gritty of monochrome photography by allowing you to tone your shots with a plethora of editing tools. You can adjust tint, add film grain, use color filters to make different hues pop in grayscale, and much, much more. Dramatic B&W doesn't have a free version and goes for $1.99 on both Android and iOS.
And, as promised, here are a couple of shots I took with the Huawei P9 in its dedicated monochrome mode. Albeit nothing special, they are still a good showcase of how sometimes shooting B&W from the outset is the better choice, as none of them would work in color:
Now you go out there and take some awesome black and white photos!