Best OBD car apps for Android: turn your phone into a black box
14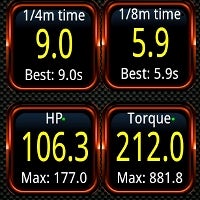 Even if you are not a car geek, a simple
$20-$25 Bluetooth OBD2 adapter
off of Amazon or eBay can go a long way spotting car troubles and avoiding the "mechanic's premium" that blows a problem out of proportion to gauge a bit more money for the repair.
It also goes a great length towards
clearing accumulated errors that fire up the engine check light
and might kick your motor or transmission in security mode at the least suitable time.
Or you could simply want to observe your car's behavior and stats in a little more detail in real time, down to "
suspicious fuel trims increase
" or "
MPG without idling/jams
". You can also overlay this info on real time video recording of your trip tagged with GPS data to serve as proof in case of an accident. How do you read the sensor data coming from the OBD port in your vehicle on the cheap, though?
Easy, just get a decent Bluetooth adapter for your OBD port, and load your Android phone with an app that lets you follow your car's vitals in real time, clean errors, record accidents and diagnose problems. We've rounded up a few of the best OBD apps for you below.