Best DLNA Android apps for streaming video to your TV
3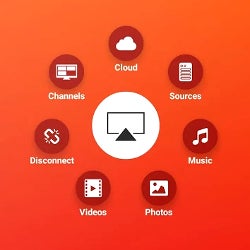 We've all been there, lounging on the couch with our phone or tablet and wishing we could stream videos from the internal storage, Netflix, YouTube, Popcorn (you didn't just read that) and so on, to the largest screen in the house right in front of us. We don't mind the occasional cable snake if the mobile device can be hooked that way for cheap, or if the Wi-Fi setup sees too many interruptions, but wireless streaming is, of course, preferable for our lazy ways.
Not every TV out there is DLNA or Miracast-enabled, so that you can throw media at it, and even then you can only stream local content, but for those who have older sets, or want to cast Popcorn, there is always Google's Chromecast, Samsung's HomeSync, HTC's Media Link HD, Sony's Personal Content Station and a myriad of Chinese solutions, too. How to manage all that streaming, though?
Often, your Android overlay will have screencasting built in, though even more often it works only for the default video, gallery and music players, and those aren't always the sharpest tools in the shed to do what you ask them to, especially when video codecs and player interface are concerned. This is why we are rounding up some of the fine streaming apps that will allow you to cast media or directly your phone's display to the biggest screen in the house - your TV - without wires to get in the way.