Best Buy will not reorder BlackBerry Tour 9630 as model goes out of stock
This article contains unofficial information.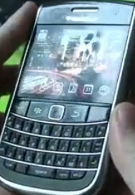 According to a Best Buy connected tipster for BGR, the big box retailer will not reorder inventory of the BlackBerry Tour 9630 as the model goes out osf stock. The reason is simple. The BlackBerry Tour2 9650, aka the Essex should be launching soon and unlike the 9630, this model is Wi-Fi enabled. The 9650 also replaces the trackball with the newer trackpad. And wjhile the 9630 is awaiting an upgrade to BlackBerry OS 5.0, the 9650 comes loaded with it already. So why would anyone in charge of inventory at Best Buy even waste a second's thought on the matter. As we previously
reported
, the Verizon version of the 9650 should be coming very soon while the Sprint version could be launched in the February-March time period.
RIM BlackBerry Tour2 9650 Specifications
source:
BGR