Best Buy Black Friday deals are now all online: check them out here
6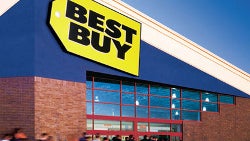 If you are into tech, Best Buy is the store you'd probably line up for early in the morning (or late the evening before) on Black Friday. And the retailer is not keeping you in the dark this year - it has released its deals online, so you can pick your favorites and rush to get them once doors open come early November 23rd.
Probably some of the best deals we saw are on large-screen TV sets, but if you want mobile there are some noteworthy deals as well. We've rounded up the ones we liked in the slideshow below, but make sure to head to the source link below to see all the deals on the retailer's official webpage.
Will you line up for Black Friday this year? What do you want to get?
source:
Best Buy