Best April Fools' Day mobile tech pranks roundup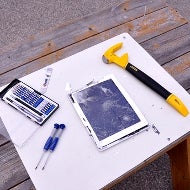 Yesterday saw a good amount of April Fools' Day pranks, and not only by you throwing water bombs at unsuspecting passers by from your balcony, then ducking and watching the response.
The tech industry and blogosphere took a swing at being funny again, and some of those skits were actually hilarious. We rounded up some of the more interesting April Fools' Day pranks that the sick minds at Google, Microsoft and so on, as well as the blogs that follow them came up with.
From new tools for disassembling your gadget, through going back to Morse Code and command line prompts, to phones made for the upcoming Ice Age, the mobile tech industry outdid itself this year, so enjoy the slideshow below. If you came across something funny on your end, please share it in the comments, so we can start the case of Mondays on a good footing.