Best Android browsers, 2015 edition: speed, features, and design
70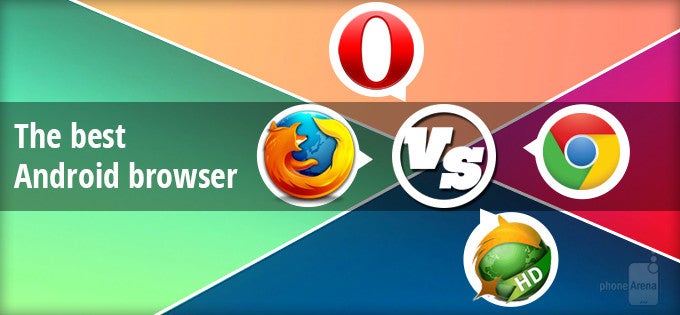 Years ago, when smartphones weren't quite as ubiquitous as they are today, industry analysts and researchers alike all agreed on one thing: it's only a matter of time until mobile browsing overshadows surfing done on a desktop computer. Fast-forward to today, and we're already past that point – smartphones are by far the most popular device to go on the internet through. It turns out that, much like cameras, the best browsing device is the one you have on your person at all times.
With the above in mind, learning that browser apps – like Chrome, Firefox, Opera, and so on – are actually one of the most popular app category on Android's Google Play Store shouldn't surprise you. Indeed, when combined, just a dozen of these add up to some 2 billion installs.
So what's the big deal? It's simple – with browsing taking up a considerable part of our daily usage, it's only natural that we want to have and make use of the very best available browser. Pinning that title to any one browser, however, is mighty tricky, as a whole bunch of factors are at play here – brute speed, navigational fluidity, feature set, privacy, and, of course, aesthetics. That's why, for our our third annual in-depth Android browsers review, we decided to check off all these from the list.
The contestants
Search the Play Store for "browser", and watch as Google's app shop returns hundreds of hits. Since we can't very well test all of those, we had to choose a mechanism by which we selected our contestants. So once we decided that we want to include more browsers into the comparison than ever before (14), it was only a matter of selecting them – we did so by reserving the first few spots for the most popular solutions out there, and by filling the rest with ones that are often recommended on the web or intriguing in one way or another.
So, without further ado, say hello to our 14 contestants this year: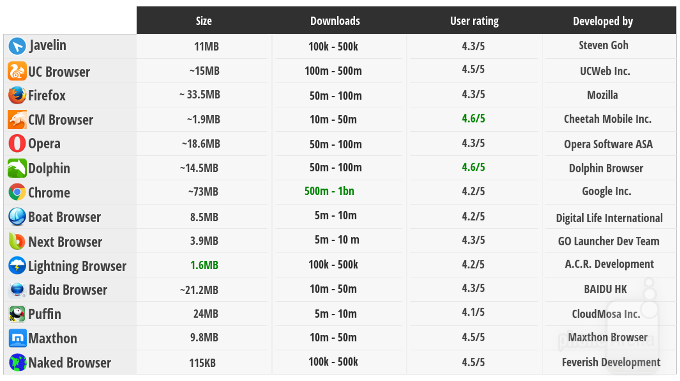 For your reference, here's a list of each browser app's exact version at the time of the testing:
Lightning Browser: v3.2.0a
Maxthon: v4.4.2.1000, build 2915
Naked Browser: v1.0, build 91
Interface and design
What possesses us to pick exactly this or that third-party browser? For most of us, the way it's presented on the Play Store, along with its design and features, is what warrants the download. That's understandable, especially since all of them, almost without exception, claim to be blazing fast anyway.
Design-wise, our selection represents all possible strata. We've got super-clean, extremely minimal solutions in the likes of CM Browser and Lightning Browser, sophisticated and design-centric ones like Dolphin and Javelin, and skunkworks projects like Puffin and Naked Browser, both of which can easily be seen as appalling. At their core, however, none deviates too much from the well-beaten path, so we always have our address bar at the top, typically accompanied with the shortcut for your other tabs, and sometimes a small strip with quick actions, and access to the settings on the bottom.
Like we said last year
, we're yet to come across a popular third-party browser that has the aforementioned address bar moved to the bottom, Windows Phone's Internet Explorer style, and that's just a shame – especially when browsing on a phablet.
Features
Apart from speed, the main reason we switch browsers has to do with the unsatisfying feature set of our current daily driver. However, not all third-party are made equal, and some bring significantly more to the table than others.
Like with most things, it's impossible to cater to absolutely every need there is, so we instead sat down and thought long and hard about the kind of functionality that makes sense on a browser. So, for example, it's almost certain that, sooner or later, you'll want to find a specific portion of a page. A "find in page' feature, then, make sense. Furthermore, we suspect many of you care about having the ability to transition to full-screen browsing, especially when reading articles, and what better way to do that than with a well-executed reader mode that drowns out all the noise and allows you to focus on the content?
The list goes on. Built-in ad blocker? Always welcome. A handy incognito mode for when you want to keep your comings and goings private? An absolute must! Oh, and flash support? A pure gem that is becoming harder and harder to find.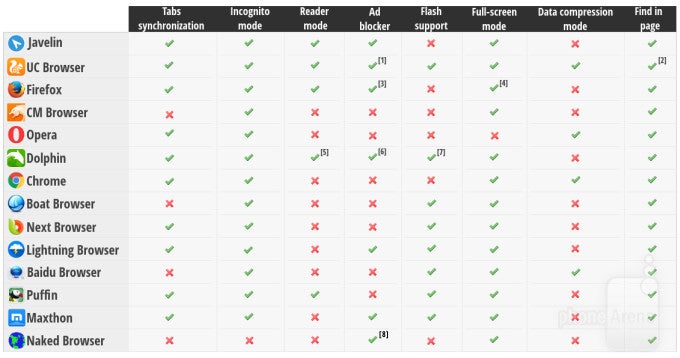 [1] through [7] only available as an add-on.
[8] Naked Browser's AdBlock activation is manual and cumbersome
Puffin's Flash support lasts only 7 days (trial).
In case you didn't count for yourself, UC Browser is the only app on the list to cover all eight bases, which is impressive. Javelin, Firefox, Lightning Browser, Puffin, and Maxthon all offer six out of the eight features outlined, while the aptly named Naked Browser offers almost no extras and is therefore last in this ranking.
Privacy and permissions
We already mentioned Incognito mode – a special browser tab that you can open and browse somewhat anonymously – and, thankfully, thirteen out of the fourteen browsers on our list do offer this feature. That said, Naked Browser does have quite a few tweaks available through its settings menu that will essentially give you the same thing.
But when talking privacy – and that's a topic we suspect a considerable part of users is far more sensitive to today, given all the NSA snooping-related scandals – an incognito mode is only a small piece of the puzzle. Indeed, what you should be equally inquisitive about is what kind of permissions these browsers request you consent to when installing them to your Android device. Like with lengthy Terms of Use agreements, however, most of us tend to gloss over these. That's a troubling thought.
For this year's edition, we didn't want to skip the topic, as it's an important one. We're not much for alarmism, and we'll be the first to admit that many of the permissions that the browsers on the list ask you grant them make perfect sense and most are likely used for benign purposes. That said, you
should
care what you sign up for, especially since some of them employ in-app advertising (on the home page only) – like Boat Browser and Puffin. This is one area in which the otherwise feature-poor Naked Browser excels – it only asks for five distinct permissions, all of which essential for the work of a browser!
Let's talk (synthetic) performance
Now that you've had the opportunity to get to know our contestants and see what they're about, you may be wondering about another extremely important factor: browsing speed. If you ask the developer behind this or that browser app, his is usually the fastest. Of course, the reality is quite different, and while most offer comparable performance, there are exceptions to the rule. Let's get a bit more technical.
First off, it's important to understand that, despite their different names, looks, and feature sets, the browsers on the list are using no more than four different browser engines. We won't go into detail on this one, so it suffices to say that the browser engine is the underlying software that makes sense of the web and returns well-structured pages. It's what makes browsing possible.
We're starting out with synthetic benchmarks, as those are very decent predictors of real world performance (which we'll cover next) and give insight into the inner workings of a browser app. In fact, some of these (like Peacekeeper) go much farther than just number-crunching tests, and instead offer the browser a challenge by running scripted scenarios that are very much alike to what the average user typically does on the web. We ran each test three times, and then calculated the average score.
Our test device of choice is the Google Nexus 6 running Android 5.1 Lollipop (build: LMY4ZE; baseband version: MDM9625_104446.01.02.98R). The phone was connected to a stable Wi-Fi network (averaging 62-67dB signal strength and 25Mbps downlink).
Real-world performance: Page load times
If you have reservations about synthetic benchmarks, you'll be happy to hear that we didn't stop at that, and went ahead, testing real-world performance by measuring the time each browser needs to open an identical page.
Before we go right ahead, these were the ground rules. First off, each test was repeated three times, and the results averaged, as to control for any temporary fluctuations in web sites' server performance. Moreover, in order for this to be representative, we used the exact same web pages for these tests, with no variables that could undermine the legitimacy of the results. Also, since some browsers
pretend
to have finished loading
much, much
earlier than they actually had, we were forced to depend on what our eyes were seeing, and not what the loading indicators showed us, so only after the chosen area of the page loaded did we stop their timer. And lastly, we tested in two distinctive states: cold and hot.
For those of you who are unaware of the terminology, cold loading means that your browser is meeting a website for the first time, and has had no chance to remember (cache) anything about it. So it's downloading the full page, and is thus slower. This is an important metric, since we all often visit pages we have never visited before. That said, keep in mind that some essential assets (JavaScript, CSS, and so on) are shared across different websites, but because we can't purge the cache for just a single site, we had to delete browsers' entire data and cache. Put simply, this means that the scores are of more value when looked at in relative terms, instead of as an absolute measure.
As for hot loading, that's the opposite as you can imagine. This means that we let the browsers learn (and cache) everything they care to about the test page before starting the clock. Since cached resources are retrieved from local memory on subsequent visits and not downloaded over the internet, hot load speeds are generally considerably better.
Note that PhoneArena.com was loaded in desktop view (much heavier), while Yahoo.com and Kickstarter.com were both tested in mobile view (faster).
It's hard arguing against hard numbers, and they are unequivocal in their meaning: Puffin is the unrivaled browser speedster, with an incredible showing. As far as real-world tests go, Maxthon achieves the second fastest load times, followed by Naked Browser and CM Browser. At the same time, industry heavy-weight Firefox, like last year, proves visibly sluggish. While you may think that these charts settle the question of which the best Android browser is, the reality isn't quite so simple, and the next test category will prove it.
Navigational fluidity
For this year's edition of our browser comparison, we devised a new test that fills in the blanks that traditional, code-crunching and load speed-based benchmarks leave – navigational fluidity, or how smooth each browser is with its transitions, zooming, panning, and so on. Until recently, there was no valid way of measuring this type of performance, but we came up with a methodology that allows us to do it.
We start out by creating a 'script' in an automation app like RepetiTouch, which captures touchscreen actions. In other words, we can record swipes left and right, scrolling, touches, zooming, and other gestures you typically use when browsing the web, and then save them in a file that can then be replayed over and over again. This, alone, is not enough, though, which is why we needed a root benchmark app such as GameBench, which can track the frame rate of any other app. In concert with the pre-recorded script, we are able to reproduce the exact same scenario across various browsers and let GameBench do the frame counting. In result, we can express navigational fluidity in terms of frames per second – the higher the count, the smoother the navigation, and the better the user experience.
We ran the script for 2 minutes and 15 seconds on all the browsers on our list on two different, fully loaded web pages. The first one was PhoneArena.com (desktop view, in order to strain them), and the second was BBC.com (mobile view).
Note that Firefox kept crashing when testing PhoneArena.com in desktop view due to the heavy load. This could be a glitch specific to the Nexus 6, or Android 5.1 Lollipop, or simply showcases a weakness of Mozilla's mobile browser. Its score, therefore, wasn't taken into account (it did just fine on BBC.com, which is a far lighter, mobile-friendly page).
As you see for yourself, for all its speed, Puffin's interface is marred by serious choppiness that makes it truly unpleasant to use. Dolphin, too, didn't fare too well. The rest managed over 50 frames per second, which means that you can expect fluid navigation with little to no visible stutters.
Conclusion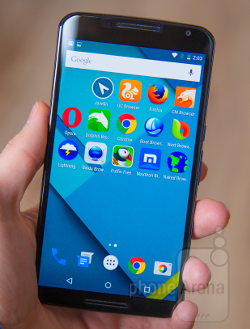 Javelin, Chrome, Opera, Naked Browser, CM Browser, and Maxthon – those are the browsers that you can count on the most in terms of speed and interface responsiveness. The likes of UC Browser and Dolphin, while extremely feature-rich, as you can expect, don't perform quite as well, though one could argue that the differences between them and the A-list group aren't big enough if you dig the user experience.
And if you consider yourself a privacy nut? The clear choice is Naked Browser,
if
you can stomach its abhorrent interface. About as equally sensitive apps like Lightning Browser and CM Browser ask for just a dozen or so permissions, and are feature-rich and beautifully designed at the same time – enough to pick our fancy and make us forget about Naked Browser.
Generally, however, a browser is too complex an app, and your idiosyncrasies will weigh heavily on your definition of best. Sure, a few of our contestants are objectively faster to deliver the content that you seek than the rest, and some of them offer a slightly smoother user experience, but it ultimately comes down to which feels most comfortable to you. Whether it's the placement of the tabs switcher, the availability of this one favorite feature, or simply the possibility to truly customize the browsing experience, all are valid reasons to discount their slightly longer load times, and pick one over the rest.
In conclusion, it's your turn, as you'll inevitably have to get a feel for what's out there before choosing a new daily driver, or sticking with the one you have.