Best Android Wear watch apps: launchers, keyboards, browsers and camera control
4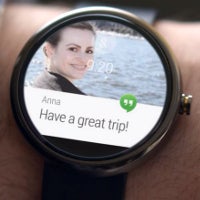 Google proved once again the viability of its business model by outing the
Android Wear
mobile accessories platform, and counting on developers to really help lift it off. And take off it did - just for a few short weeks since its announcements, and
barely a smartwatch or two on the market that run Android Wear
, we are already seeing an exponential growth in features and productivity we can carry on our wrists now, thanks to the efforts of third-party developers.
From the missing links, like a small app to turn off the annoying glow of your watch screen when you sleep, to awesome niche apps that give you the ability to control your Tesla Model S electric car from the comfort of your wrist, there are now hundreds of apps for the platform, and counting. We are rounding up some of the best Android Wear apps so far, for you fresh owners of an
LG G Watch
,
Samsung Gear Live
, or whatever comes down the pipe, like the cool and round
Moto 360
. Check them out below, and do share if you've found something else useful, too, as new Android Wear apps are popping up every day now.