Behind the scenes at the Hipster Troll Car Wash
3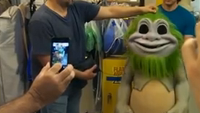 No matter what you thought about
the first HTC ad with Robert Downey Jr.
, it is always interesting to watch what goes on behind the scenes. The commercial, best we can tell, is all about the many different things that HTC can stand for.
Happy Telephone Company
,
Hipster Troll Car Wash
and
Hot Tea Catapault
were some of the choices selected. Perhaps the best moment of the ad was when a woman goes up to the actor with a feline and says "
Hold this cat
."
The behind the scene look at the ad shows the camermen setting up shots, and we even get to see how those Hipster Troll costumes were designed. We're not sure how many HTC phones are going to be sold on account of the spot, but we hope that the next ad in the series focuses more on HTC's phones.
source:
HTC