Bazinga! Prodigy balks at Android tablet gift on Jimmy Kimmel: 'We're getting iPad for Christmas!'
42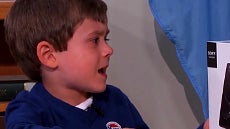 The 5-year-old Arden Hayes was on Jimmy Kimmel again last night, this time blowing our minds with his knowledge of geography, countries and capitals, and the parting gifts segment became a perfect example of product placement gone wrong.
The host started handing the whizzkid a globe and he reluctantly accepted, but when it came to a
Sony Xperia Tablet Z
, Arden Hayes just pushed it back and said: "
You can give that away because we will be getting an iPad for Christmas
!"
Fun stuff, though certainly not for Sony's PR team. Watch below, the Sony Tablet Zzing bit starts around the 5:10 mark, but the whole video is worth watching, be it only to learn something from the kiddo.