Back To School Phone Guide 2009
15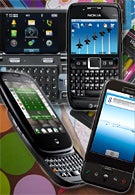 AT&T:
High School and Teens
Motorola Karma QA1

: Solid designed texting phone that can withstand the daily usage of an addicted messenger. It's social networking focus keeps you in the loop with your circle of friends and always up-to-date on news.
Motorola Karma QA1 Specifications
|
Review
LG Xenon GR500

: This device packs plenty of arsenal at your disposal. You'll be in charge by navigating with the touch screen while choosing every now and then to slide out the QWERTY to send orders.
LG Xenon Specifications GR500
|
Review
Pantech Matrix

:This unique dual-sliding design will turn heads as you roll down thehallways. It has that elegant slider look to talk while flipping it theother way allows you to secretly send a message.
Pantech Matrix Specifications
|
Review
College and Graduates
Apple iPhone 3GS:

If you do not feel like experimenting with some of AT&T's other offerings, you can always go for the latest generation of Apple goodness. Both a lightning-fast performance and an endless content will be on your side.
Samsung Impression

: You're on the border of becoming an adult, but still have that kid heart in you. The Impression's one of a kind AMOLED touch screen will make you the center of talk around campus, while still giving you that youthful appeal.
Samsung Impression Specifications
|
Review
Nokia E71x Specifications
|
Review
(EU version)
Samsung Jack i637

: This won't break the bank for you and most schools still rely heavily on the Windows platform. It's ability to view Microsoft Office files will be a joy when you're busy attempting to cram information before class.
Samsung Jack i637 Specifications
|
Review