Audiovox CDM-8940 - the first 1.3 mega pixel phone from Verizon?
0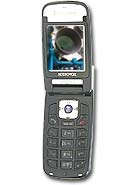 The built-in camera has 1.3 mega pixels with maximum resolution of 1280 x 960. There is a small LED flash also, which improves the picture quality when making photos in low light condition (only helps at very close distances). In addition, the phone has brightness and contrast controls, self-timer function, self-portrait and frames. Videos with sound can also be recorded.
Everyone's questions will be of course when the phone will be available and how much will it cost. Sprint PCs offers its mega pixel model for $299.00 with $150 instant rebate (as of 07-26-2004). I expect the Verizon's device to be priced around $300 also. The crux of the problem is the 8940 release date. It might be a few week, several months, or there is also possibility that it is never released.
Full specifications and features of the Audiovox CDM-8940 are available at PhoneArena.com