Audible for WP7 possibly available in 3 months
2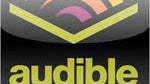 WMPoweruser is reporting that it has obtained information that Audible, the popular audiobook application for Kindle, iPod, iPhone, Android, and a variety of mp3 players, is actively working on a Windows Phone 7 version.
The engineer WMPoweruser has contact with states that it should be available in about 3 months. Allegedly, Microsoft is the driving force behind the development because it views Audible as a "depth" app that needs to be available on the platform in order for it to be viewed as competitive.
Since there is no official announcement, we wouldn't recommend holding your breath. Particularly because back in 2010, the company responded to a request about Audible for WP7 saying, "
We are currently designing a new App for this phone and hope it will be available sooner than later.
"
source:
WMPoweruser