Audi reveals CarMonitor app for iPhone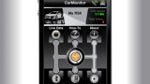 Lucky Audi owners will soon be able to download CarMonitor, an iPhone app that monitors, analyzes and stores key performance characteristics for their car. It's a welcome addition for drivers who can brag about their ride's performance, get statistics about how eco-friendly is their driving style or just log their trips.
CarMonitor uses your car's OBD-II port to get real-time performance data which is turned over also in real time. You can take a look at the engine RPM or how much your driving performance affects your carbon footprint. Finally, you can share all the data online on the Audi Labs website. The app was demoed at the automotive SEMA show in Las Vegas and we found it pretty useful. Take a look at the video and let us know if you share our opinion.
source:
Daily Mobile
Recommended Stories