Asus denies it's abandoning tablets
14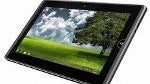 Yesterday, there was a rumor that Asus and other manufacturers would be
abandoning the tablet market
because of fears about being able to compete, but Asus has come out to dispel those rumors.
Asus spokesman Gary Key told CNET flat out that "Asus is not exiting the Android Tablet business." On top of that, Key also added a jab directly at DigiTimes, saying that the news organization is often wrong with its rumors and reports.
This is pretty good news. None of us were all that excited about the idea that Asus would leave the tablet business. The Transformer tablets have been solid, and have sold well. We're still waiting to see if the other manufacturers named in yesterday's report (HP, Dell, and Acer) make similar statements denying the speculation.
source:
CNet