Archos G10 XS teased: takes ultra-thin to the next level
1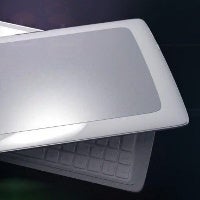 The
Archos G10 XS
might arrive as the world's thinnest tablet beating the Toshiba AT200 and it also comes with a keyboard dock a la Asus Transformer, so you have the best of both worlds. The G10 XS is an Android Ice Cream Sandwich tablet rumored to be only 7.6mm thick and yes, that's a 0.1mm-hair thinner than the Toshiba AT200 which takes pride in having the world's slimmest waistline.
The Archos G10 XS is also expected to feature
"paper thin"

steel
(whatever this means) and not aluminum. There's one unknown in the whole equation - the price. Rumors place the upcoming tablet at between $260 (200 euro) to $520 (400 euro). Keep your fingers crossed for the former and check out the video below - we'll let you know about more details as soon as we get them.