Apple's in-app purchases settlement gets the green light, claim your compensation by January 13th 2014
4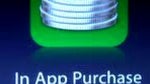 An "Apple In-App Purchase Litigation Administrator" has sent emails detailing the
compensation process
for those parents involved in the
in-app purchase
lawsuit against Apple in 2011.
People claimed that it was far too easy once they enter their Apple ID and password to buy an app, then their kids or someone else to amass unauthorized in-app purchases without reentering them first. Apple patched the loophole with an update, but by that time many parents were unpleasantly surprised by their offspring's vial-buying sprees.
Apple is offering a $5 iTunes gift card compensation for amounts less than $30, and up to the maximum amount charged in a 45-day period for the heavier cases. The payment scheme will run until January 13th 2014, so grab it while it's hot.